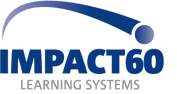 Herndon VA (PRWEB) February 05, 2013
IMPACT60 Learning Systems™, LLC is excited to announce the launch of a new website. IMPACT60 Learning Systems™ provides a new approach to workplace learning and development in the 21st century. Its revolutionary 60 MINUTES for IMPACT™ workshops' platform is a faster, better, and more cost effective way to develop human capital in today's knowledge-driven economy.
The new website has a clean and modern feel that allows for easy navigation. Its information is well organized throughout. It helps the user to quickly ascertain what the company does, how its innovative approach to training is different from traditional training platforms, and how to navigate the sight according to the training need, size of the pool of people needing training and budget. Easy-to-follow contact information is provided for the user who chooses to lease the 60 MINUTES for IMPACT™ workshops, while a fully-automated eCommerce store is provided for the user who chooses to purchase.
IMPACT60 Learning Systems™ understands that in today's work environment, 20th century training concepts and platforms are out dated. And, it developed its revolutionary 60 MINUTES for IMPACT™ workshops' platform to overcoming the seven (7) problems inherent in the use of training predicated upon traditional practices. Traditional training…
…Takes employees away for their jobs for one or more days at a time
…Overloads participants with too much information
…Deliveries are (generally) formal and passive, and presented inconsistently
…Transference back on the job is poor
…Measurement of impact is insufficient
…Has logistical inflexibilities in regards to the scheduling of people and facilities
…Consists of multiple cost insufficiencies
IMPACT60's 60 MINUTES for IMPACT™ workshops are

Concisely Times and Highly Focused: Each workshop is one hour long and teaches a single skills or skill sub-set.
Immediately Applicable: Training and post-training tools aid participants in applying skills immediately upon returning to their jobs.
Participant Centric: Participants are engaged actively during training, learn collaboratively by sharing their experiences and gain timely, relevant, insightful, practical and useful knowledge.
Results Based: Each workshop is designed to impact participant's behaviors, performance and productivity.
Uniquely Flexible: Workshops may be delivered individually or collectively in series. They can be held anyplace team meetings and/or training sessions are conducted.
Radically Priced: Whether leased or purchased, workshops are priced to save money, and expand, rather than restrict, training budgets; both large and small.
IMPACT60 Learning Systems™: Training to Drive Business Result in the 21st Century!