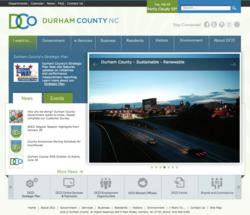 Vision Internet has extensive experience working with government agencies such as ours and bring the skills needed to insure a successful government website.
Durham, NC (PRWEB) February 12, 2013
Durham County, North Carolina recently went through a complete re-branding process to shake its dated public image. As part of the re-brand, the County worked with Vision Internet to launch a redeveloped County website.
Accessed at dconc.gov, the new website boasts a clean, modern design, intuitive navigation, and new eGov technologies focused on usability and transparency.
"A far cry from its predecessor, the new website brings order, excitement, and most importantly, improved communication to our community," shares Hudson Oliver, Development Supervisor for Durham County IT. "Since the launch of our new website, we have been able to solidify the new branding and our new Strategic Plan."
The website's new design:

Greatly enhances the County's existing website to be a resourceful, informative marketing asset that provides a user-friendly environment that emphasizes access to County services, departments, and business opportunities.
Improves access to County government by providing a website that is easy to use, contains complete and comprehensive information, has intelligent and rapid search capabilities, and provides a seamless interface to additional applications.
Develops a cost-effective, interactive architecturally sound website that is flexible enough to support the County's Internet needs for years.
Creates a standardized format and enhanced graphical look for all pages, thereby establishing a unified theme throughout the website.
Many key features of the new website can be accessed directly from the new dynamic homepage. Some of these features include:
Easy access to online services and payments
Document central providing an aggregated list of County forms
Interactive events calendar allowing events to easily be added to personal calendars (Google, Outlook, Yahoo)
Responsive mobile design powered by visionMoblie™
The technology powering the Durham County website has been significantly upgraded as well. The new site runs on the visionCMS™, an industry-leading government content management system created by Vision Internet.
Simple to use, yet packing a powerful eGov punch, the visionCMS™ has enabled 30+ County workers to be involved in creating and updating website content. With this many hands on deck, the website has become more relevant and the County more transparent than ever before.
"Vision Internet came with excellent recommendations from several counties and cities, stated Oliver. "They have extensive experience working with government agencies such as ours and bring the skills needed to insure a successful government website."
"Their CMS is user friendly, and the existing staff members are able to utilize the system to make web updates efficiently," continues Oliver. "Vision's eGov add-on features and ongoing support and maintenance gives us a path to enhance functionality down the road should we choose to do so."
To request more information about the eGov technology powering the new Durham County' website, please visit the http://www.visioninternet.com/inforequest.
About Vision Internet:
Vision Internet is the national leader in government website development with nearly 500 government, non-profit, and education clients across the US and Canada. Over the past 17 years, Vision Internet has been creating industry-defining websites for communities ranging in populations of less than 1,000 residents to more than 5 million. Widely recognized as the government website experts, the company has earned hundreds of prestigious industry awards for its unique websites.