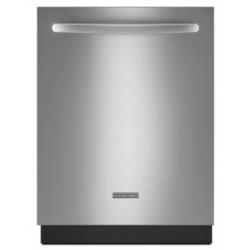 Ballwin, MO (PRWEB) February 05, 2013
Consumers at online retailer Goedekers.com are turning in positive reviews for the ENERGYSTAR rated KitchenAid KUDC10FXSS Fully Integrated Dishwasher.
Rated 4.8 out of 5 stars, the dishwasher is one of the most highly rated dishwashers offered by the company. The most popular feature discussed in reviews is the quiet operation of the appliance. "It works quietly and very efficiently," reported one customer. Another states "I researched little bit and zeroed in on this one. I feel like patting my back every time I use it . Very quite and great looking machine."
The KitchenAid KUDC10FXSS dishwasher features four wash cycles with three options and a hard food disposer. These features combined allow consumers to clean a full load of 14 place settings without having to pre-wash or rinse the dishes, saving time and utility expenses. As reported by one reviewer, "I don't have to rinse off the dishes before running [the] dishwasher."
The fully integrated dishwasher is one of over thirty KitchenAid dishwashers available at goedekers.com. The only product to be reviewed more often is the more powerful KitchenAid KUDE70FXSS. This upgraded model holds two extra place settings and offers two additional wash cycles. Feedback on the slightly larger dishwasher is generally positive, with most negative feedback regarding installation services as opposed to the unit itself. One customer, who purchased the KUDE70FXSS as a replacement for an old dishwasher, went so far as to say "This is the most quiet dishwasher and it even got rid of the hard water spots from our old dishwasher."
Goedeker's is currently offering a rebate of up to $1,000 on both dishwashers. Interested consumers can see all of the rebates available at http://www.goedekers.com/rebates.