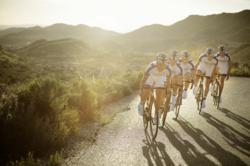 If you're not using data, you're not adhering to the principle of unending improvement.
Lafayette, CO (PRWEB) February 12, 2013
What do Tour de France winner Team Sky, Ironman World Champion Craig "Crowie" Alexander, and Olympic gold medalist Kristin Armstrong of the USA Cycling team all have in common?
Besides all having reached the pinnacle of their respective sports, these organizations and athletes are using technology - and quantifying every aspect of their training - to gain a winning advantage in their sport.
"Gone are the days of just going out and training as much and as hard as you can, and simply using historical volume, perceived exertion and guesswork to judge your workouts and fitness," says Dirk Friel, co-founder of TrainingPeaks, which is the training software of choice for the elite athletes listed above. "The science of training has come a long way, now we have technology that can quantify training stress, pinpoint areas of improvement, and even forecast peak form for an athlete. Athletes and coaches who use TrainingPeaks have technology and science at their fingertips and it's becoming easier and easier to manage and leverage large amounts of data."
Who's Training with Technology?
Founded in 1999, TrainingPeaks was the first company to offer web-based fitness planning and analysis for cyclists, triathletes and runners. CEO Gear Fisher estimates that nearly half of the pro cycling peloton uses their tracking software, and the company counts Tour de France champion Team Sky, Australia's first UCI Pro Tour team ORICA-GreenEDGE, UnitedHealthcare Pro Cycling Team and Team Saxo-Tinkoff among the teams that are continuing to use TrainingPeaks as their official software in 2013. Team Saxo-Tinkoff owner Bjarne Riis says of TrainingPeaks, "We've used the TrainingPeaks software [since 2009], and it has become an invaluable tool for our team. We can monitor and analyze the riders' training and individual capabilities, and this understanding helps them to continuously progress."
2012 Tour de France champion Team Sky has very publicly relied upon data, technology and analysis to design their Tour-winning training and racing strategy.
But the software is not just for pro cycling teams. 3x IRONMAN World Champion Craig Alexander uses it to track his triathlon training. "Crowie" says of the software, "Effective training is the fine balance between quality and quantity. TrainingPeaks helps me maintain this balance quite well."
National governing bodies USA Cycling, USA Triathlon, British Cycling, Triathlon Ireland, Triathlon New Zealand and Triathlon Canada are renewing agreements with TrainingPeaks in 2013 to offer the software to their development teams and certified coaches. These organizations will also coach and manage their elite teams on TrainingPeaks as they prepare for the 2016 Olympics.
New Organizations Join the "Quantified Training" Movement
The success of this "quantified training" approach - methodical tracking of data, and program planning based on scientific analysis of that data - has not gone unnoticed in the industry. For 2013, the following athletes, teams and national governing bodies have also selected the Boulder-based software provider as their "official training software":
-Team Novo Nordisk Pro Cycling
-Euskaltel Euskadi Pro Cycling
-Cycling Australia
-Cycling Ireland
In 2013, TrainingPeaks can count the oldest team in the professional peloton, Euskaltel Euskadi, among its users. With a squad based heavily on riders born or developed in the Basque Country, the team has scored important victories in the biggest events of international cycling including the Tour de France, Vuelta a España, Giro d'Italia and Vuelta al País Vasco, as well as a gold medal in the Beijing 2008 Olympic Games.
Euskaltel Euskadi considers TrainingPeaks to be a key aspect of ensuring continued success through targeted training prescription and consistent monitorization.
Not Just for the Pros
However, training with technology is not just for the pros anymore. Major non-profit organizations like Bike MS and World Bicycling Relief are relying on TrainingPeaks to deliver the official training plans for their popular charity rides. Over 100,000 cyclists participate in Bike MS rides through the year, and every one of them is eligible to get a free cycling training plan from TrainingPeaks, as well as their own free account to track and analyze their training.
And with national governing bodies like USA Triathlon, British Cycling and Cycling Australia adopting the use of the software on an official basis, coaches that are certified through these NGB's are encouraged to use data and analysis to coach their clients, most of whom are age groupers and amateurs. Over 3000 endurance coaches are using the TrainingPeaks platform to track, analyze and plan their clients' training programs.
USA Triathlon Level 2 coach Jim Vance is an example of one of these coaches. Vance relies heavily on years of consistently tracked data within TrainingPeaks and TrainingPeaks WKO+ desktop software to design training programs for his elite, junior and age group athletes, and ensure they continue to get the new training stimulus they need to have "breakthroughs" and achieve increasingly ambitious goals. Most recently, Vance coached an age group Ironman triathlete from a finishing time of over 11 hours to a personal best of 8:59, numerous top 3 age group spots, and a qualification for the Ironman World Championships in Kona.
Vance, who is also an Elite coach for Training Bible Coaching says, "With the increasing depth of competition in the sport of triathlon, the difference between accomplishing goals and not is becoming a smaller and smaller margin - whether you're a professional or an age grouper. We can't afford to train poorly, or waste training days with too much recovery, or put too much training stress on our bodies and get injured. Data helps us to train effectively and continually improve, even after years in the sport. If you're not using data, you're not adhering to the principle of unending improvement."