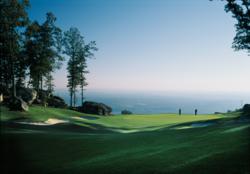 The Cliffs is committed to further enhancing the member lifestyle experience through strategic development and new Club offerings
Greenville, SC (PRWEB) February 06, 2013
The Cliffs, a distinctive collection of seven lifestyle communities in the heart of the Carolinas, announced more than $80 million in real estate transactions during 2012 and plans for ongoing investment in new amenities over the next decade. The forthcoming additions will advance the original vision for The Cliffs, which already provides access to a tremendous variety of amenities, including golf courses, clubhouses, wellness centers, hiking trails, tennis courts, an equestrian center, a beach club, marinas and restaurants, and has earned recognition as one of "America's Top 10 Golf Communities" by Golf Magazine and "Top 10 Private Golf Communities" by Robb Report.
The newest addition will arrive in fall 2013 with the opening of The Cliffs at Mountain Park Golf Course. One of only a few golf courses currently under construction in North America, the Gary Player-designed golf course is part of the 5,000-acre Mountain Park private residential community set in a stunning wooded valley surrounded by mountains and designed with the highest environmental standards.
"We come into 2013 with high anticipation and strategic goals to build on the strong momentum generated during the second half of 2012," said Brett Johnston, CEO of Cliffs Land Partners. "With continued investments planned, our team is committed to further enhancing the member lifestyle experience through strategic development and new Club offerings," added Davis Sezna, CEO of Cliffs Club Partners.
Real estate sales at The Cliffs held strong throughout 2012 with a reported $80+ million in transactions throughout all seven communities, consisting of approximately 60 homes and 90 homesites. The development currently has a total of 1,430 completed homes, and approximately 65 homes are currently under construction. More than just real estate, buyers are attracted to the diverse offerings as well as the full range of built and planned club amenities that make The Cliffs a unique, year-round community. The Cliffs currently has more than 2,200 members from across the U.S.
The new ownership group, Silver Sun Partners, LLC, has established Cliffs Club Partners and Cliffs Land Partners to manage club operations as well as real estate sales, marketing and development, respectively.
Situated in the heart of the Blue Ridge Mountains, The Cliffs is a collection of residential communities set among a million acres of protected national forest reaching north to Asheville, North Carolina, and south to Greenville, South Carolina. Members can choose from three regions – Mountain, Lake Keowee and Asheville – across seven communities – The Cliffs at Mountain Park, The Cliffs Valley, The Cliffs at Glassy, The Cliffs at Keowee Springs, The Cliffs at Keowee Falls, The Cliffs at Keowee Vineyards and The Cliffs at Walnut Cove.
A single membership at The Cliffs provides access to the incredible range of amenities across all seven communities, including clubhouses, golf courses, wellness centers, hiking trails, tennis courts, equestrian center, marinas and restaurants, and a member of one community is a member of all communities.
Homes at The Cliffs Communities are available and range in price from $500K to $4 million Homesites start at $100K. For more information about The Cliffs Communities visit http://www.CliffsCommunities.com or call 866-411-5771.