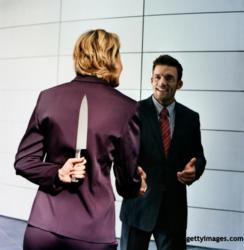 If you produce quality results, you can't be shown up.
Anchorage, Alaska (PRWEB) February 05, 2013
Lynne Curry, Ph.D., SPHR (CEO of The Growth Company, Inc.) has over thirty years of management experience and receives questions frequently on how to deal with office drama. Today she responds to a client and offers advice on how to make sure employees do not assist in their own backstabbing.
A client writes in, "Five months ago I suggested my boss hire a woman I'd met at Rotary. I didn't know this woman well, but she was incredibly flattering when she sat at my table and twice bought my lunch when next to me in line. Soon after she came aboard, I learned my mistake. I expected her to treat me well. Instead, I've got a target on my back. She sucks up to my boss, takes every opportunity to show me up, lets my boss know she has skills in my area of expertise and relayed to several co-workers comments I made to her in private. I don't dare got to my boss about this – he has no patience with what he considers "female infighting" – so how do I now tell him she's an opportunistic back-stabber?"
Lynne Curry starts off by saying, "Jerry Harvey once asked 'How come every time I get stabbed in the back my fingerprints are on the knife?'"
"Although your new co-worker potentially saw you as a stepping stone to a job," says Dr. Curry, "she doesn't pose you as a serious problem as does your penchant for drama and your willingness to endorse someone based on flattery."
Dr. Curry adds, "Although your boss listened to your input on this hiring, he ultimately made his own decision. Trust him to correctly assess someone manipulating him – if she is. If you produce quality results, you can't be shown up."
And finally, Dr. Curry advises, Pull your fingers off the knife and stop making comments you don't want repeated."
Dr. Lynne Curry is a management/employee trainer and owner of the consulting firm The Growth Company Inc. Send your questions to her at lynne(at)thegrowthcompany.com. You can follow Lynne on Twitter @lynnecurry10 or through http://www.workplacecoachblog.com
© Lynne Curry, January 2013, http://www.thegrowthcompany.com