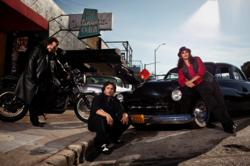 Napa, CA (PRWEB) February 06, 2013
Can anything even more magical happen in the already charmed career of Los Lonely Boys? You bet. It's called Rockpango, their first self- produced long player on their own LonelyTone/Playing In Traffic Records. And yeah, it's magical indeed. At least as magical — and maybe more so — as debuting in 2003 with a multi-chart gold single, selling millions of albums, winning a Grammy, racking up reams of critical acclaim, opening for The Rolling Stones, and many more accomplishments for the Texican rock'n'roll trio of brothers. Plus playing and recording with such legends as Willie Nelson and Carlos Santana, associations that give a strong hint at what's at work here on Rockpango.
After proving themselves one of the most stunning and wonderful musical success stories of the last decade, Los Lonely Boys are now carving out their legend with their fourth studio album. Even though the band has already shown they can "up the ante with greater musicianship and confidence" (People) every time out, on Rockpango they heighten the trajectory, open up their sound, and show what flourishing maturity feels like from these veteran yet still young and burgeoning musical talents.
Tickets for An Acoustic Evening with Los Lonely Boys plus Sarah Gwenn are $45/55. They are on sale now and can be purchased through the theatre website at http://www.uptowntheatrenapa.com, at Ticketmaster (http://www.ticketmaster.com) or at the theatre box office (please call 707.259.0123 ext. 6 for hours). To find out more, please visit http://www.uptowntheatrenapa.com.
The Uptown Theatre Napa is downtown's ultimate destination for live concerts. Nestled in the famed West End district, this stunningly restored art deco masterpiece showcases only the finest acts, featuring music, comedy and more. An historic landmark, the Uptown offers a phenomenal, intimate live show experience, with excellent site lines and world class sound and lighting. As concert venues go, this is the place to be. Every seat is a great seat so buy concert tickets now!