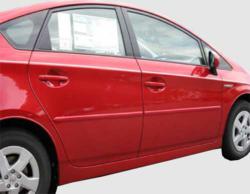 It's really hard to tell the difference between the factory and the aftermarket parts
San Diego, CA (PRWEB) February 11, 2013
Custom Auto Trim and Graphics Inc., an industry leader in auto and truck accessories for the past 16 years announced the inclusion of 12 new styles of Body Side Molding for both cars and trucks. With their new range car door molding products, the company claims to remain ahead of all the competition prevailing in the aftermarket of cars and trucks.
"We always bring our customers brand new styles of body side molding and car door molding before anyone else can do," said Mike Briglia, the President and Head of the company's online store. "It's one of the least expensive ranges of accessories that someone can get for their car, and it not only protects the vehicle, but it really adds to the overall appearance. If someone were to purchase an accessory like this at the car dealership it would cost them more than 3 times the amount that they would pay on the aftermarket purchase."
Briglia said "Some of the body side moldings are color keyed just like the factory puts out. For example, someone may have purchased a new base model car that came without any moldings or trim on it. If you would add some Car Moldings to your vehicle it would give you the appearance of a more luxury model with moldings that would appear like one typically coming installed from the factory itself. An aftermarket body side molding kit can cost between $60 and $120, and it's really hard to tell the difference between the factory and the aftermarket parts".
The company reveals that their car door moldings can save a car owner from getting dents or small chips that they often get from minor parking lot damages. The moldings can be color-matched to suit the vehicle. All of these moldings have the potential to save the owner hundreds of dollars worth of body shop damage just by installing a simple protection kit that they offer to all the vehicle owners.
Many customers of the company are quite happy with their aftermarket offerings which always prove to be very useful and also affordable at the same time. Custom Auto Trim's website hosts several testimonials that reflect the level of satisfaction that customers are getting from their services. Most of the customers appreciate the exceptionally extensive inventory that Custom Auto Trim maintains so that one can be remain assured of getting the accessory that they need. The company offers varied types of auto and truck accessories as body kits, rear spoilers and carbon fiber wrap vinyl for body repair of cars and trucks. One can check their inventory on their website http://www.customautotrim.com.
About Custom Auto Trim and Graphics Inc
Founded in 1997, Custom Auto Trim has been a premier global supplier of hubcaps and car accessories, and serves many industries including automotive, recreational vehicle, boats and heavy truck. Some applications of their products that can be found at car dealerships include rear spoilers, rear window graphics, body side molding, custom pin striping, truck decals and stainless steel truck side bars.