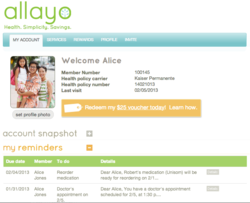 We want to give people the same accessible, easy interface to health care that they now have when they shop, bank or arrange travel online.
San Francisco, CA (PRWEB) February 06, 2013
Today Allayo announced the public beta of their free online personal health care assistant to consumers who are frustrated by the time and effort it takes to arrange for quality health care. With the Allayo public beta, found at http://www.allayo.com , people can forget about repeat calls, long hold times and paperwork nightmares that typically accompany their health care experience. Plus Allayo offers members discounts of up to 85% on their out-of-pocket expenses for a variety health care services and products.
"People are so busy that their health care often falls to the bottom of their "to do" list," said Stephen Zocchi, co-founder and CEO of Allayo. As an example, Zocchi referred to a report from Healthcare Insights that highlighted less than half of patients take their medications as prescribed and late refills account for about half of those who miss "For the average family it's surprising the time it takes. One mom showed us a rocket-scientist class spreadsheet she built just to keep track of it all," said Zocchi. "With Allayo, your health care is always at the top of our "to do" list."
From Self-service to Personal Service
Allayo combines the benefits of easy online access with the services of certified medical assistants who understand health care systems, coding and billing processes. "Self-service is the internet norm, but that's evolving. Today you can access assistants to help you with anything from organizing your closet to writing your Christmas cards," said Zocchi. "Why not employ your own medical assistant to look after your personal health care needs for you?"
Allayo Features and Benefits
Once a person creates an account with Allayo they have access to a secure, private application to manage their health care. They can easily add family members so they have a single place to organize all their health care information. The Allayo personal health care assistant application includes:
Health Care Reminders – Allayo will send reminders to personal email as well as call when members have appointments, when it's time to refill prescriptions or schedule regular exams and more.
One Click Medication Refills – Directly from a refill reminder people can order prescriptions. If prescriptions need to be extended, Allayo will get that done with the doctor and get the refills ordered.
Request New Services – Members communicate what they need through an easy request wizard for medications, supplements, or diagnostics. There's also help for filing an insurance claim or finding a doctor.
Personal Health Care Profile – Organize information such as doctors and health insurance in one place for easy access. See a record of personal health care activities.
Privacy and Security – Allayo protects personal health care information using HIPAA standards. Information is secure and encrypted in transit and when stored in a certified HIPAA compliant data center.
A Personal Health Care Assistant – A real, live certified medical assistant is assigned to every Allayo member. Available on the phone, and through secure chat and email, personal health care assistants do the leg work to make sure Allayo members' health care needs are being met.
An idea that came from health care consumers
The idea behind Allayo grew from work that co-founder Robert Capelli was doing to help physicians re-engage with their patients. Patients started coming back to Capelli to help them arrange for their treatments. "Interacting with the health care system is hard," said Capelli. "It's a flashback to the 1970s. Who faxes anymore? We want to give people the same accessible, easy interface to health care that they now have when they shop, bank or arrange travel online."
Participation in the Public Beta includes $25 credit
Allayo is also recognizing participants in the beta program for helping to improve the Allayo personal health care assistant with a $25 credit toward the participant's out-of-pocket health care expenses while using Allayo.
About Allayo
With Allayo, being healthy has never been easier. Allayo offers a free concierge service for personal health care that combines an easy web/mobile app with access to certified medical assistants via chat or telephone. Allayo makes navigating the health care system painless by making it easier to arrange for basic health care services like doctor appointments, lab work, chiropractic and other therapies. And Allayo saves people money on the out of pocket portion of their personal health care expenses. The company is located in San Francisco and serves members nationwide. For more information or to become a member, go to http://www.allayo.com.
For more information contact:
Stephen Zocchi
(855) 525 5296
szocchi(at)allayo(dot)com
###