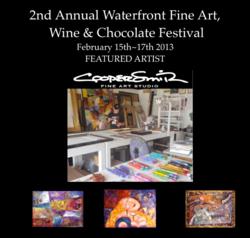 Scottsdale, AZ (PRWEB) February 06, 2013
Due to the tremendous success of last years Waterfront festival, Thunderbird Artists is returning to Scottsdale with the 2nd Annual Waterfront Fine Art, Wine & Chocolate Festival that promises even more art to enjoy with paintings, bronzes, glass, stone, copper, clay sculptures, photography and jewelry. Other participating, award-winning artists include; bronze artist, Steven Schneider, watercolorist, Raleigh Kinney, acrylic painter Miro Kenarov, mixed media abstract painter, Jane Lee, glass sculptors Kathy & Rory Chetelat, stone sculptors Jeremy & Gabriella Firehammer, Susan Zalkind & Paul Hawkins, bronze artist, Bob Wilfong, jewelers Wendy Newman & Sarah Foster, cartoonist Robert Marble, contemporary mixed media painter, Esther Rogoway and many others.
Thunderbird Artists has worked to make the art enthusiasts experience unique. They do this by working with renowned wineries, thus allowing patrons the opportunity to enjoy sampling wine while strolling and enjoying art! This year, Thunderbird Artists is thrilled to announce that they will be joined at the Waterfront by the following wineries: Arizona Stronghold, Kokopelli, River Bluff Cellars, Schlossadler International and Vinocopia.
$10.00 entitles visitors to a complimentary souvenir wineglass and 6 tasting tickets.  Attendees certainly do not need to be a connoisseur of wine to enjoy the varied selections available. Their experts will talk everyone through the history, grape and region of each wine.  You will leave our festivals conversant in all there is to know about this long standing industry.
WHAT
Waterfront Fine Art, Wine & Chocolate Festival, produced by Thunderbird Artists! Meet nationally acclaimed, world renowned and emerging, independent artists showcasing new original artwork.
WHEN & WHERE
Set on the banks of the Scottsdale Waterfront in Downtown Scottsdale.
7135 E Camelback Road , Scottsdale, AZ 85251
Friday, Feb 15 at 10am‐5pm
Saturday, Feb 16 at 10am‐5pm
Sunday, Feb 17 at 10am‐5pm
WHO
Showcasing nearly 100 award-winning artists…
Featuring mixed media painter and sculptor, Justin Coopersmith
ADMISSION & PARKING
Admission $3. Free Parking
FOR MORE INFORMATION:
480-837-5637 or visit http://www.thunderbirdartists.com