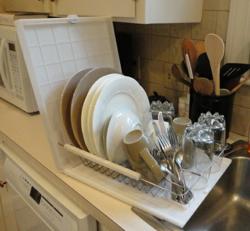 2 in 1 space saver: a full size dish drying rack that transforms to become a large cutting board
Wellesely, Mass. (PRWEB) February 07, 2013
The JonJas Company has released their new two-in-one cutting board that opens into a dish drying rack to do dishes. This device saves space and provides an aesthetically pleasing storage solution. The dish drying rack holds up to 9 dishes and has areas to hold glasses and silverware, utilizes four rubber feet keep it stable on any surface, and is angled to allow water drainage into a sink. When closed, the polyethylene cutting board is 14 1/2 x 16 1/2 x 1 1/2 inches with a latch that keeps it closed for cleaning.
Paul Chalifoux, a dentist in Wellesley, MA, got tired of seeing an ugly dish drying rack on the kitchen counter top but had nowhere to store it. "I thought it would be nice if the dish rack folded flat. I recognized that by increasing the angles of the wires holding the dishes, they would fold down next to each other. Further down the counter was a cutting board and I thought wouldn't it be nice if the dish drying rack folded into a cutting board."
Dr. Chalifoux made a miniature model to see if it could work:

Two plastic plates became a base and cutting board
Orthodontic wire became plate holding wires
An orthodontic wire became the support wire joining the plate supports cutting board for opening
Scotch tape joined the base to the cutting board
Thirteen plate wires were taped to the base
The support wire was taped to the inside of the cutting board and the top of the thirteen plate support wires
The first collapsible dish drying rack / cutting board was 5" x 6". A full size model was then constructed using bent clothes hangers and polyethylene cutting boards. Design details were worked out and brought to a professional prototyping company where a detailed design using mechanical engineering principles was finished and two prototypes were produced.
Dr. Chalifoux discussed his new invention with many of his patients and friends. "A few people only used a dishwasher and did not see the need for it. Fortunately, most people placed pans and select dishes in a drying rack even if they used a dishwasher. When people were home alone they placed a glass, a dish and a fork into a dish drying rack but they did not like the appearance."
The collapsible dish drying rack / cutting board is ideal for people with limited space as occurs in apartments, boats, and campers. It is also ideal for singles, couples, students going away to college, elderly and for people that do not use a dishwasher.
The JonJas Company sells the Collapsible Dish Drying Rack/ Cutting Board online at http://www.JonJas.com, amazon and ebay and is negotiating to sell it in stores and other online outlets. The Cubodira will be displayed at the upcoming Housewares Show in Chicago starting March 2, 2013.
The Cubodira will be available for shipment on April 15, 2013. Orders prior to April 15, 2013 will receive a $10.00 discount when order from the http://www.jonjas.com website store.
About the JonJas Company
The JonJas Company was founded in Wellesley, MA to create high quality products for consumers including their new dish drying rack that folds to become a cutting board. A new set of products are being developed.
Contact:
The JonJas Company
781-235-1747
company(at)JonJas(dot)com
http://www.JonJas.com