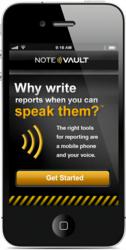 The addition of CrowdSource Safety to NoteVault is a paradigm shift in the way construction safety works today.
San Diego, CA (PRWEB) February 13, 2013
NoteVault is partnering with FightReady™ to utilize their combined expertise and domain knowledge of safety and mobility technology, to greatly improve construction site safety.
FightReady provides employers an automated risk mitigation and compliance service designed to develop and keep current, state specific drug and alcohol testing policies and procedures in accordance with state and federal laws, as well as court and industrial commission decisions. By utilizing FightReady's service, employers can avoid violating the ever changing landscape of state and federal laws, get assistance with defeating Workers Compensation claims that involve drugs and alcohol, prevent wrongful terminations and maintain a safer work environment.
NoteVault improves FightReady's offering, with their service, CrowdSource Safety™, by helping companies' document safety observations faster and with more detail using NoteVault's voice-based reporting observations and alerts. CrowdSource Safety helps companies expand their "safety inspector base" by including ALL of the project team in reporting safety observations, not just the safety inspectors. The ability of having everyone actively participate in keeping projects safe, by improving communication, raises safety awareness and helps avoid accidents on the job.
In addition to CrowdSource Safety, NoteVault provides FightReady with their AlertMe! service. This provides instant reporting by placing simultaneous phone calls to designated stakeholders in the event an incident is reported. Recipients of the call will hear the original recorded audio as reported, ensuring information was not left out to any of the important recipients. AlertMe! also delivers real-time texts to the people tending to the accident, to make sure that policies and procedures are followed, which assists FightReady to determine accurate liability.
In many cases, misconduct during an accident has resulted in expensive fines to employers who were ill-informed about their state's policies and procedures regarding accidents involving drugs and alcohol. By providing the right information to the right people at the right time, employers can be protected from wrongful Workers Compensation claims.
About NoteVault:
NoteVault provides innovative voice-to-text-based mobile reporting solutions for the commercial construction industry. NoteVault enables superintendents to quickly and easily report project activity from the field using nothing but their voice and their mobile phone. This information is transcribed and made available through email or a web-based interface. NoteVault saves contractors time and money, while protecting against potential lawsuits. For more information, please visit http://www.notevault.com.
About FightReady™:
FightReady helps organizations comply with their state, local and federal drug and alcohol polices. They keep their customers up-to-date with any changes to state or federal policies and procedures to reduce risk, liability and cost. FightReady assists customers in meeting their company's goals and in maintaining compliance in each state which they conduct business, by ensuring the customer understands the state in which they conduct business. More information about FightReady™ can be found at http://www.fightreadynow.com.
NoteVault and the stylized logo are registered in the US Patent & Trademark Office. All other product or service names are the property of their respective owners. © 2012 NoteVault, Inc.. All rights reserved.