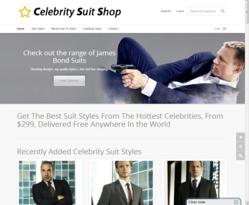 Celebrity Suit Shop pays attention and gives these fans what they crave with their growing clothing line, all of which is inspired by the same clothes worn by some of the hottest stars.
Melbourne, Australia (PRWEB) February 12, 2013
Celebrity Suit Shop Launches Celebrity-Inspired Clothing Line
Celebrity Suit Shop is an Australian based eBusiness, and they're kicking off the New Year with a bang and a successful launch of their new online celebrity suits clothing store. They've built a strong foundation on the popularity, status, and influence that A-List actors can have on their admirers, setting their sights high to deliver the same level of stylish clothing that everybody sees their favorite actors wearing, but at a very affordable cost.
For just about anybody who's seen movie stars - both on and off the silver screen - they would easily notice the slick, trendy outfits the stars are wearing. There's entire media segments dedicated to informing fans of "who's wearing what" and "who looks better than whom while wearing it". Celebrity Suit Shop pays attention and gives these fans what they crave with their growing clothing line, all of which is inspired by the same clothes worn by some of the hottest stars.
Currently they specialize in 2 piece suits, 3 piece suits, and tuxedos, ones have been seen worn by major stars such as Leonardo DiCaprio, Ben Affleck, Brad Pitt, and Ashton Kutcher at movie premiers and awards ceremonies.
At this time, Celebrity Suit Shop is also offering a plethora of tuxedos that have been inspired by the most recent James Bond films, the very same worn by actor Daniel Craig throughout his exploits as 007: top secret agent for British Intelligence Agency, MI6. With this specific clothing line, Celebrity Suit Shop strives to give fans and admirers of James Bond the opportunity to dress as stylishly as their favorite secret agent, all without breaking the bank.
Celebrity Suit Shop proudly emphasizes their customer service, boldly announcing to the worldwide web, "We are dedicated to the satisfaction of our customers, and are constantly innovating to improve our high level of customer satisfaction." They aim to please with some of the highest quality fabrics, fabulous and accurate designs, as well as fast and free shipping to all orders placed throughout the world.
For the benefit of all shoppers, each suit available on the website features a description of exactly what event the celebrity had been attending when wearing the suit, or what movie they were taking part in. Links to images of the stars wearing the suits at each respective event are included as well, allowing any shopper to see exactly what they can expect to receive with their purchase from Celebrity Suit Shop.
If visitors have any concern about how on earth they'll get a specific suit tailored just for them - but without the tailor - they needn't worry at all; Celebrity Suit Shop features a revolutionary system that will determine a person's body measurements without them ever having to measure themselves. There are only four inputs required: An individual's height, weight, age, and body shape. The digital tailor system will create a fit in estimation to the person's body measurements, and with surprisingly incredible accuracy, too. If a customer would rather take the more traditional route, then Celebrity Suit Shop features a contact form that will provide a list of measurements to be fill out, ensuring that their shoppers get the exact size they request for their desired celebrity suit.
Here's a few of the celebrities that have featured suits:
● Matt Bomer
● Ian Somerhalder
● James Bond
● Gerard Butler
● Matthew McConaughey
● Ryan Reynolds
● Channing Tatum
● Chris Hemsworth
● Andrew Garfield
● Tom Cruise
● and many more...
Celebrity Suit Shop tailors to the fans of the stars. If somebody's looking to match suits with a celebrity or provide a fantastic suit as a gift for somebody who'd love to do the same, then this is the shop that will match their desires. They accept all major credit cards and PayPal, and all orders are shipped for free via DHL or FedEx, and arrive within 16 business days - which includes tailor time.
Anybody who's interested in learning more, or perhaps in placing an order, should feel free to visit: http://www.celebritysuitshop.com/