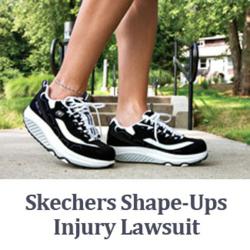 Wright & Schulte LLC, is dedicated to helping those affected by Skechers Shape-Ups Injuries receive their deserved compensation. Call 800-399-0795 or visit yourlegalhelp.com for a FREE consultation!
Columbus, OH (PRWEB) February 06, 2013
More than 100 consumers being represented by the experienced product liability law firm of Wright & Schulte LLC recently filed Skechers Injury lawsuits alleging they sustained serious injuries, including broken feet and ankles, leg and hip fractures, tendon and ligament damage, head injuries, spinal cord damage, and in one case, a pulmonary embolism, allegedly as a result of Skechers Toning Shoes. All 101 Skechers Shape-Ups lawsuits were filed by the firm on January 28, 2013 in the federal multidistrict litigation established for Skechers Toning Shoe lawsuits in U.S. District Court, Western District of Kentucky. These filings represent just the latest actions the firm has brought on behalf of alleged victims of Skechers Shape-Ups injuries. Richard W. Schulte, a partner with Wright & Schulte LLC, is serving on the Plaintiffs' Steering Committee in the federal Skechers litigation. (In Re: Skechers Toning Shoes Products Liability Litigation – MDL 2308)
Skechers Shape-Ups Lawsuits Filed in Kentucky Federal Court, Skechers MDL 2308
All of the plaintiffs being represented by Wright & Schulte LLC allege the rocker bottom design of Skechers Shape-Ups contributed to their injuries. They further allege that the Skechers Corporation failed to warn the public about the possibility of injuries associated with the toning shoes. In one of the most heart wrenching cases, the mother of a two-year old child from Lewis Center, Ohio, experienced a pulmonary embolism in front of her husband and child weeks after she suffered a severe broken ankle as result of a fall she took while wearing Skechers Shape-Ups. According to her lawsuit, the Plaintiff has endured three hospital admissions, many additional emergency room visits, dozens of doctor appointments, and permanent health complications as a result of her injury. (Case No. 3:13-cv-00170-TBR)
Severe Injuries Allegedly Due Skechers Shape-Ups
Severe Skechers injuries are alleged in many of the claims recently filed by Wright& Schulte LLC. In one case, a Toledo, Ohio, woman suffered a compound fracture of her right trimalleolus and a severe sprain of her left ankle after the rocker bottom sole on her Skechers allegedly caused her to pronate outward and fall down a flight of stairs. (Case No. 3:13-cv-00172-TBR) A West Virginia man who suffered both a broken and dislocated ankle was forced to undergo immediate surgery to have a fixator, consisting of four screws in his ankle and two in his shin, implanted in his leg to repair the damage. (Case No. 3:13-cv-00153-TBR) In Spiro, Oklahoma a woman also underwent immediate surgery to repair a fractured ankle after her shoes caused her to pronate suddenly and without warning. (Case No. 3:13-cv-00139-TBR) Another Plaintiff from Mobile, Alabama was diagnosed with a severe fracture of his right ankle and leg following a fall he suffered while wearing Shape-Ups, while a woman from Elberton, Georgia underwent surgery and was hospitalized for several days after suffering a severe compound fracture of her wrist that she sustained in a similar fall. (Case Nos. Case No. 3:13-cv-00136-TBR and 3:13-cv-00151-TBR)
Plaintiffs in Skechers Shape-Ups lawsuits claim they were enticed to purchase the popular toning shoes because of marketing claims that promised use of the shoes would promote fitness and weight loss. Television spots for the shoes, which featured celebrity endorsers like Kim Kardashian and Super Bowl quarterback Joe Montana, promised the shoes would enable the wearer to "Shape Up While You Walk," and "Get in Shape without Setting Foot in a Gym."
Unfortunately, just a year after their 2009 launch, Skechers Shape-Ups and similar toning shoes were being eyed with skepticism by some experts who questioned both their safety and efficacy. In 2010, for example, a study conducted by the American Council on Exercise (ACE) reported that there was "simply no evidence to support the claims that these shoes will help wearers exercise more intensely, burn more calories or improve muscle strength and tone." The study raised additional concerns that use of such shoes "may alter the walking gait mechanics of wearers and, in some cases, potentially cause problems for those who may already be at risk for lower-extremity issues." By 2011, Consumer Reports had revealed that Skechers Shape-Ups and similar toning shoes had been the subject of more injury complaints than any other product in its database.
[[http://news.consumerreports.org/health/2011/05/as-sales-of-toning-shoes-mount-so-do-injuries.html
Skechers Shape-Ups Pays $40 Million To Settle Charges With FTC
In May 2012, the manufacturer of Skechers Shape-Ups agreed to pay $40 million to settle charges with the Federal Trade Commission (FTC) that it had made unfounded claims that Shape-Ups would help people lose weight, and strengthen and tone their buttocks, legs and abdominal muscles. While the settlement provided consumers with refunds for the purchase of their shoes, it did not include compensation for injuries allegedly caused by Skechers Shape-Ups.
[http://www.ftc.gov/opa/2012/05/consumerrefund.shtm
If You've Sustained A Severe Skechers Injury Contact Wright & Schulte LLC
Wright & Schulte LLC is representing scores of additional plaintiffs in Skechers Shape-Ups lawsuits in the multidistrict litigation underway in Kentucky. The firm is offering free personal injury lawsuit consultations to anyone who suffered a serious injury while using Skechers Shape-Ups, including ankle, hip and wrist fractures, tendon and ligament damage, and head and spinal cord injuries. For more information on filing a Skechers Shape-Ups lawsuit, or to arrange for a free legal consultation, please visit http://www.yourlegalhelp.com, or call 1-800-399-0795.
About Wright & Schulte LLC
Wright & Schulte LLC, an experienced personal injury firm, is dedicated to the belief that America's legal system should work for the people. Every day, the attorneys of Wright & Schulte LLC stand up for the rights of people who have been injured or wronged by defective drugs and their side effects, complications from defective medical devices, and unsafe consumer products, and fight tirelessly to ensure that even the world's most powerful corporations take responsibility for their actions. If you're looking for a law firm that will guarantee the aggressive and personal representation you deserve, please do not hesitate to contact Wright & Schulte LLC today. Free case evaluations are available through yourlegalhelp.com, or call 1-800-399-0795.
Contact:
Wright & Schulte LLC
812 East National Road
Vandalia, Ohio 45377