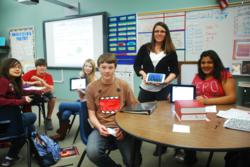 "A smart phone, an iPad, this isn't technology to students; these tools are every day for them. The difference is, in this classroom, they are learning how to use these tools not just for social interaction, but for academic growth."
Yuma, AZ (PRWEB) February 06, 2013
While Yuma School District One stresses the basic skills of mathematics, reading and language arts, it also gives special emphasis to science and technological skills. This year, Yuma educators have integrated more technology than ever into the school day.
For example, at noon each day at Castle Dome Middle School, eighth grade teacher Cary Fields hands out iPads to students as they seat themselves at social media tables in her technology-inspired classroom. Each iPad is assigned to a social media table named after different platforms, such as YouTube, Twitter, and Edmodo.
During the lesson, Mrs. Fields makes an important note about an upcoming project regarding blogging and videotapes herself on an iPad to later post on Youtube for students to review and remember. Throughout the lesson, students are using their smart phones to capture notes by taking pictures. For bell work, students take turns sliding answers across an interactive Promethean board to match posted descriptions.
Twenty miles away at G.W. Carver Elementary School, Principal Debra Drysdale is in the library greeting a new fourth grade student, who is highly engaged with the new active tables that Carver Elementary just incorporated this school year. Active tables give students a fun approach to building their cognitive, social, leadership, and fine motor skills. During a walk-through in a special education classroom, a child with Down syndrome is using the Promethean interactive board to answer questions pertaining to the day's lesson.
Both Principal Drysdale and Mrs. Fields have been ongoing champions of technology at their respective sites and district-wide. When asked about the reason behind such passion towards advocacy of technology in the classroom, Principal Drysdale states, "Technology is the vehicle that will get our students where they need to be. When I have 60% of my students logged on after school hours, it shows just how effective and engaging technology-based instruction can be."
Mrs. Fields adds, "A smart phone, an iPad, this isn't technology to students; these tools are every day for them. The difference is, in this classroom, they are learning how to use these tools not just for social interaction, but for academic growth." When asked about the growth potential of technology in the classroom, she says "It is endless. This is just the beginning."
About Yuma School District One:
Yuma School District One is the largest school district in Yuma County, Arizona. It provides a highly-driven educational system for eleven elementary, five middle schools. The district is a pioneer of technology in education, but it also emphasizes leading the way with heart. To find out more about Yuma School District One, visit http://www.yuma.org