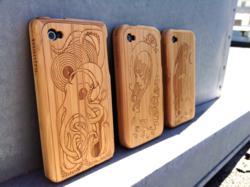 "Human trafficking is an affront to the very core of freedom; Mantrastyle is my way of contributing to the fight against this form of modern day slavery, to restore dignity and hope to its victims," - Grace Tai, Mantrastyle founder
San Francisco, CA (PRWEB) February 07, 2013
This Valentines Day, the most thoughtful gifts will undoubtedly be those gifts that give back. A fresh wave of hot new socially conscious businesses are sweeping the nation and giving shoppers the chance to give and get at the same time.
A popular social brand for design-conscious shoppers is Mantrastyle, makers of fresh, bold bamboo wood iPhone cases. Besides being a statement piece, Mantrastyle cases are making a statement, with a portion of each case dedicated to restoring hope and transforming the lives of human trafficking victims.
"Human trafficking is an affront to the very core of freedom; Mantrastyle is my way of contributing to the fight against this form of modern day slavery, to restore dignity and hope to its victims," says Grace Tai, owner of Mantrastyle.
This Valentines Day, give the gift of freedom and restoration. See http://www.mantrastyle.com for more details.
About Mantrastyle: Mantrastyle is a socially conscious company designing personalized bamboo iPhone cases supporting anti-human trafficking efforts. Every case is completely customizable, unique, and environmentally-sustainable. To discover what Mantrastyle can do for you, visit http://www.mantrastyle.com.