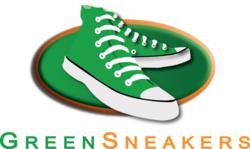 Newport News, Va. (PRWEB) February 06, 2013
The Tidewater Performance Center and Tidewater Physical Therapy clinics in Newport News and Hampton will collect old sneakers to help raise money for The Leukemia & Lymphoma Society through Feb. 15.
The collection efforts are in support of Erin Padgett, PA-C, a Physician's Assistant at the Orthopedic & Spine Center in Newport News. Padgett is an avid runner and fundraiser currently training for an endurance run with The Leukemia & Lymphoma Society's Team in Training (TNT) Program.
In exchange for training and support, TNT participants raise funds for cures toward blood cancers like leukemia, lymphoma, and myeloma.
Padgett plans to run the Nike Women's Half Marathon in Washington, DC in April.
What does this have to do with Tidewater Physical Therapy?
Padgett is currently doing a fundraiser to also help an organization called Green Sneakers, which collects old and used tennis shoes to provide affordable footwear to people in need around the world.
For every pound of shoes that Padgett collects, Green Sneakers will donate 50 cents to The Leukemia & Lymphoma Society.
"The Green Sneakers program is unique and effective in that it helps fund local charities but ultimately impacts people in need around the world," according to Green Sneakers. "By collecting used tennis shoes in this land, we at Green Sneakers can make them available as affordable footwear in developing countries. This activity enhances economic development and sustainability both domestically and abroad, but also plays an active role in job creation."
Collection bins are located at the Tidewater Performance Center in Newport News and every Tidewater Physical Therapy clinic on the Virginia Peninsula – Oyster Point on J. Clyde Morris Boulevard, Denbigh near the Newport News airport, Hidenwood close to Christopher Newport University, and Executive Drive and Magruder in Hampton.
ABOUT TIDEWATER PHYSICAL THERAPY:
Founded in 1986, Tidewater Physical Therapy is an independent, outpatient physical therapy practice with more than 30 clinics in southeast and central Virginia.