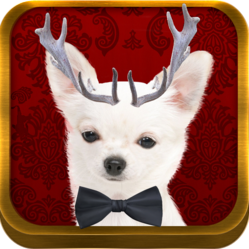 Belfast, ME (PRWEB) February 06, 2013
Horndog is a mobile app that makes it easy to add horns to photos. "Horndog can make any photo horny," says app developer, Tim Wilson.
Horndog features over 25 kinds of horns including Texas longhorn, gazelle, buffalo, and big horn ram as well as antlers from deer, elk, moose, and reindeer. In addition, there are easy to add banners that range from the clever "I'm game. Are you?" to the punny "Coming soon". Women also have the opportunity to add antlers to a photo and add the caption "Nice rack" as a humorous retort to crude comments or advances.
A black CENSORED box for blocking out parts of photos is included. When asked what the box was for, Wilson replied "Some things are best left to the imagination."
Other easy to add items include bow ties, lipstick kisses, roses, heart shaped eyeglasses, and much more.
The app is simple to use. The first step is to take a picture or choose one that is stored on the phone or tablet. Then users select an item from the "Art" folders. The size, position and orientation of items on the picture can be changed and adjusted using fingers.
"The whole idea is to make it easy for people to make high quality, horny photos without having to be a tech wizard," explains Wilson. "I mean, if you're in the mood to make horny pictures, do you want technology getting in the way?"
When the new picture is finished, users can save it, email it, or upload it to Facebook, Instagram, Twitter, Flickr or Pinterest. There is also an upload for Shutterfly so that users can make unique invitations, calendars, or a very special gift.
The app is currently available on iTunes for Apple devices and on Google Play for Android.
Cat Game Apps LLC is making the world smile one app at a time. More information is available at http://www.catgameapps.com.
# # #