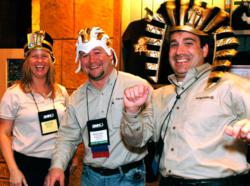 Branding your Meeting using Professional Images Photography
Austin, TX (PRWEB) February 06, 2013
Convention Photography season is in full swing for Associations, Conferences, Tradeshows and Events all over the United States, Mexico and Canada. Today's digital world has taken over photography in every aspect. Onsite Printing Photography services are also in huge demand and with Social Media integrated to help brand, engage and create new ways to attract customers and retain loyal followers. It is a brand new world for the Corporate Photographer.
Starting February 6th to March 15th, 2013 a discount of 20 percent will be applied to every bid that is requested. The reason for this incredible offer is to showcase Professional Images' wide range of products. To submit your request for a bid go to http://www.proimagesphoto.com/request-a-quote/ if a SXSW Event Photographer is needed Professional Images Photography is in Austin, TX.
Since 1987 Professional Images Photography has been a leader in Convention Photography providing full coverage from the moment the meeting starts to the moment the meeting ends.
Creating strong and compelling images helps bring members back year after year and also recruiting new members to attend is the important, and having Professional Images Photography's years of experience will help any organization. From the keynote speakers, breakouts, tradeshows and attendees engaging with an exhibitor are just a few of the images that are often covered and with over 20 years of real Convention Photography experience Professional Images can deliver this and more. Sponsors often underwrite many of the social events that take place during the convention or conference. Professional Images Onsite Printing Photography has made leaps in technology that not only just prints a photo but also can stream live to Facebook, Instagram, send a customize email with photo attached while printing the photo. Creating customer engagement at welcome reception, closing reception or at the tradeshow is what drives business models and spread brand messages.
About Us:
Since 1987 Professional Images Photography has been providing Convention Photography, Onsite Printing Photography, Green Screen Printing Photography and Event Photo Marketing services Nationwide. Based in San Antonio, TX with offices in Houston, Orlando, Washington D.C. 1.888.486.3241