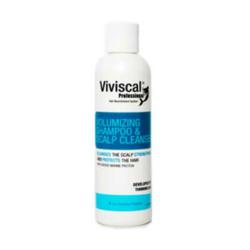 "On the inside, Viviscal vitamins and supplements promote hair growth while offering men and women a safe, 100% drug free, dietary supplement," remarked Raichel Goodyear
Anaheim, California (PRWEB) February 20, 2013
Offering over 100 brand names hosting over 4,000 products, DrSkinSpa.com adds Viviscal Hair Growth Program to its comprehensive skincare offerings. Physician owned and operated and sharing over 30 years combined experience, the team at DrSkinSpa.com is known for their commitment to research, analyze and offer skincare products with clinically proven ingredients and scientifically sound results.
While a vast supply of anti-aging skincare and beauty products are available, few effective, quality products are accessible in the hair loss/hair thinning arena. Recognizing the need for an excellent product with proven results known to increase hair growth and deter thinning, DrSkinSpa.com now offers Viviscal Hair Growth Program as the established hair loss prevention leader. The team at DrSkinSpa.com chooses products based on scientific data, safety and effectiveness. Viviscal hair products meet these expectations with a solid record of success and celebrity endorsement.
Viviscal hair products promote new, healthy hair for both women and men. Because the aging process can cause hair to thin and become dry and brittle, Viviscal vitamins and supplements incorporate anti-aging properties into the Viviscal hair products. These nutrients nourish a healthy scalp which encourages growth. Viviscal offers the opportunity to have thicker, more luxurious hair without synthetic implants, surgery or drugs.
Viviscal Hair Growth Supplements are scientifically proven to nourish thinning hair and promote healthy hair growth from within the body. Recognizing the need to encourage internal hair growth while enhancing existing hair, Viviscal Hair Growth Supplements offer superior marine-based ingredients to promote thicker, healthier hair from the inside out. Only Viviscal Hair Growth Supplements contain the exclusive marine complex AminoMar. These marine extracts developed in Scandinavia are derived from isolated, key proteins from marine plants to produce clinically proven results for maintaining and growing new hair. AminoMar is exclusive to and only available from Viviscal vitamins and supplements. Other natural ingredients in Viviscal Hair Growth products include vitamin C, Niacin, Iron, Zinc, and millet seed.
As seen on The View with Barbara Walters, Viviscal hair loss products were highly touted as an effective hair growth and hair retention solution showing before and after photos of a person who experienced hair growth after using Viviscal hair products. Recently highlighted in Prevention Magazine, a physician in the article discussed the results of the study where Viviscal Hair Growth products slowed the rate of hair loss and increased hair growth. Remarking upon its effectiveness, Viviscal Hair Growth products were also recommended by a New York dermatologist in the May 2012 issue of Allure Magazine.
"On the inside, Viviscal vitamins and supplements promote hair growth while offering men and women a safe, 100% drug free, dietary supplement," remarked Raichel Goodyear, Esthetician at DrSkinSpa.com. "On the outside, Viviscal Shampoo and Viviscal Conditioner leave hair voluminous and soft and healthy looking. And both the Viviscal Shampoo and the Viviscal Conditioner are suitable for all hair types."
Viviscal Hair Growth products offer customers the scientific reasons for hair loss. By studying the phases of hair growth, Viviscal hair researchers discovered which phase offered optimal growth and when scalp health is realized. Viviscal shampoo and Viviscal conditioner nourish the scalp while exfoliating dead skin cells to prepare it for new growth and keep hair strong and healthy.
For more information about Viviscal Hair Growth products, visit DrSkinSpa.com.
About DrSkinSpa.com:
The physician owned and operated team of physicians, scientists, researchers, and estheticians at DrSkinSpa.com offers an extensive selection of well-researched and evaluated premium, spa-quality hair care, skincare, cosmetics and additional beauty products for women and men. Free consultation with an esthetician is available online or through the call center. DrSkinSpa.com offers free domestic shipping, a 14 day money back guarantee, a rewards points purchase plan and a 120% price protection guarantee. To order visit http://www.drskinspa.com or call toll free 877-777-1940. DrSkinSpa.com is based out of Anaheim, California.