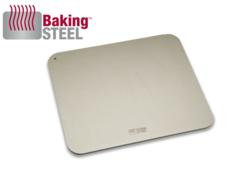 Boston, MA (PRWEB) February 06, 2013
The perfect "pizza" storm has touched down and ignited an idea that promises to infinitely improve the delicious delight of pizza. What's the secret sauce? Andris Lagsdin, a man with a mad passion for pizza and legit kitchen cred as former employee to Todd English. Stoughton Steel, a family-owned manufacturing company also known as Lagsdin's day job for the past 15 years. And lastly, an "Ah Ha" moment, inspired by reading Modernist Cuisine. Combined together and voila, Baking Steel is born – quite possibly the best cookware product for achieving pizza perfection.
"I've been on a quest to create the perfect pizza crust," shared Lagsdin, Founder and Inventor of Baking Steel. "While reading Modernist Cuisine, one simple sentence spoke to me. Nathan Myhrvold wrote that the best tool for making the perfect crust would be a piece of steel. I immediately hustled out to our plant, found a piece of quarter-inch, high-quality steel and brought it home for testing. The outcome sealed the steel theory and my quest for brilliant, airy, crispy crust was complete."
The Science Behind the Steel
Steel is the most conductive cooking surface. It heats evenly, at lower temperatures, faster. And the thicker the steel, the more heat energy stored, the less cooking time needed. Pre-heat the Baking Steel in the oven at 500-degrees, bake for approximately 8 minutes and enjoy.
Because of this simple science, time and again, Baking Steel consistently serves up a beautiful, thin, bubbly and browned, crispy crust. Whether you roll your own dough or buy it in store (try Whole Foods) the pizza possibilities are scrumptiously, limitless. And the Baking Steel is universal. Moms are cooking with their kids using fresh toppings like basil, mozzarella, tomatoes and veggies while passionate pizza enthusiasts are baking up gourmet masterpieces like fig preserves & prosciutto, hamburger pizza, chopped shallot, pesto and cheese or Canadian bacon and eggs pizza!
"Food, especially pizza, brings people together," remarked Lagsdin. "In my home, Friday is family night. My wife and I have two kids so it's fun to gather around the Baking Steel and see what crazy combinations we can cook up. Yet, simple and delicious Pizza Margarita still wins."
Get Your Steel On
Made in the USA from virtually indestructible, recycled steel, Baking Steel comes in two sizes – The Standard 16" x 14" at ¼" thickness weighing 15 pounds and The Big 16" x 14" at ½" thickness weighing 30 pounds. The product is pre-seasoned with an organic blend of oil so it arrives ready-to-bake and fits most conventional home ovens and barbecue grill surfaces. Both Steels come with an option for a storage sleeve. Made from reclaimed and recycled billboard materials, each sleeve features a unique color and design. Water resistant on the exterior and cell foam padding on the interior protects the product, while a clamshell design unzips fully to provide easy access.
Available at http://www.bakingsteel.com. Price ranges from $72 – $110 with free shipping.
Sleeve cover add $35.00
Every Steel Buys a Meal
Baking Steel offers custom sizing and engraving, providing an ideal, personalized gift. And, it's a gift doing good. For every Baking Steel sold, a portion of the proceeds goes to The Greater Boston Food Bank to buy a minimum of one meal.
Follow us @bakingsteel and Like us on facebook.
About Baking Steel
Baking Steel is part of Stoughton Steel – a family-owned company located in Hanover, MA that has been in steel business for over 35 years. We proudly design and manufacturer many products for industry giants such as Caterpillar, Volvo, JCB and New Holland, to name a few. We have been able to secure and to serve our companies with benefit of being ISO certified. This allows us to ensure our management processes/procedures exceed our customers' expectations as well as provide products and services that are safe, reliable and of excellent quality.