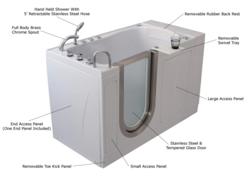 This new monthly mailer will be loaded with discounts and great information on walk bathtubs and ADA compliant showers.
Phoenix, AZ (PRWEB) February 06, 2013
Aging Safely officially announces that its shopping cart site, featuring the most up-to-date walk bathtubs and ADA showers, will have a monthly mailer. The mailer will offer coupons, discounts and information about aging in place technology. Customers will be able to benefit from promotional discounts and specials on an ADA shower or elderly bathtub.
Zach Wennstedt, Aging Safely's CEO, said, "In January, 1992, the federal government mandated that public bathrooms must be accessible for those with disabilities. An ADA shower design has special features that comply with the American Disabilities Act (ADA) requirements. Many models have grab bars, a seat, and a certain size to maximize handicap accessibility. The new mailer provides information about ADA compliant showers and walk bathtubs and offers promotional discounts to make it affordable for residential and commercial customers to age in place."
The elderly generally prefer aging at home, but they may require an ADA shower stall or walk bathtub, so they can continue aging in place independently. Residential customers and senior care facilities that are seeking information about an ADA shower stall or elderly bathtub will appreciate this convenient newsletter. Often an affordable elderly bathtub can make aging at home possible, so the mailers can be an invaluable resource to inform individuals of affordable bathing options.
Commercial clients, such as assisted living and nursing home facilities, must have hydrotherapy, walk bathtubs and a wheelchair access shower that can enhance senior care, promote fall prevention and make bathing accessible. Potential occupants who are no longer able to enjoy aging in place at home are likely to tour facilities, which have the necessary bathtubs for senior citizens and ADA compliant showers. Mailers highlighting the latest aging in place technology can help maximize fall prevention for over 50 housing and senior care facilities. They will also keep facilities and individuals informed of the latest walk in shower designs, potential hydrotherapy benefits, and information to help maintain personal hygiene while aging in place.
Reading the monthly mailers brings relevant ADA shower and elderly care information to all customers who want to enjoy savings and utilize aging in place technology. The shopping cart website's mailers make purchasing walk bathtubs, ADA compliant showers and hydrotherapy tubs easy and affordable. Individuals aging at home or commercial clients who want to ensure they have an appropriate wheelchair access shower to suit their specific needs; will find this mailer a valuable resource due to its information on quality bathroom safety equipment and elderly bathtubs. Interested parties can register for the mailer by contacting a representative directly or through the eCommerce website.
Contact Information:
Tye Wennstedt
info(at)walkbathtubs(dot)com
720-495-5497
# # #