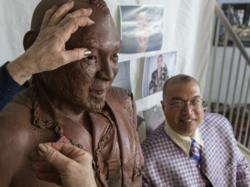 "Only wanting to do what no one else dares"
New York, NY (PRWEB) February 17, 2013
As jazz lovers united at Iron Chef Marcus Samuelsson's Red Rooster on February 9th for the first in a series of tributes to honor world-renowned saxophonist Fred Ho, Charles Knox LaSister of the Knox Gallery officially announced the creation of a bronze bust of Ho commissioned from New York sculptor Leah Poller to honor Ho's lifetime contribution to the arts.
"As someone highly self-conscious about my legacy due to the reality of stage 4b metastatic cancer, I have been thrilled with Leah's imagination and desire to imbue and radiate my spirit and energy as the subject of her sculpture. The sittings at her studio townhouse in Harlem have been fun, engaging and challenging", states Ho.
Poller's work captured Ho's interest because of her unique approach to post modern figurative sculpture. The title of the portrait "Double-Dare" represents the mutuality of both the visual artist and the musical artist to "only wanting to do what no one else dares." Poller recounts, "In the long process of sharing stories and getting to the inner depths of Fred, he shared with me the meaning of his life, a theme which rings true to both my own processes and my artistic creation."
The Knox Gallery will inaugurate Poller's one person exhibition of sculptures entitled "Mirrors of the Soul" on April 11th, followed by a series of encounters, musical presentations, a preview of the documentary "Diary of the Dragon – The Revolution of Fred Ho" and the book signing of "Yellow Power, Yellow Soul - The Radical Art of Fred Ho" (University of Illinois Press) at the Knox Gallery. Ho has announced his retirement due to his medical condition.
"As the Knox Gallery embraces the original and the courageous in artistic expression, presenting Poller's one-person exhibition, highlighted with the unveiling of her portrait of Ho, magnificently underscores the strength and purpose of creativity emanating from the Harlem tradition of serving the arts," states Charles Knox.
Fred Ho and the Green Monster Band opened the program at Ginny's Club at the Red Rooster, Saturday February 9th in the world premiere of Ho's composition "Rompin', Rumpin' and Roastin'" a one-of-a kind show whose unique works and style personify an Afro-Asian hybrid of American new music and and jazz.
The Knox Gallery opening of "Mirrors of the Soul" is scheduled for April 11th.
About Leah Poller: http://www.leahpoller.com
Paris trained sculptor Poller is known for her internationally exhibited 101 Bed Collection and for her sur-realized portraits. As artist, arts-activist, writer and content editor of New Observations, Poller brings a lifetime career in the arts to Harlem where she lives and works. For more information: http://www.leahpoller.com
About Fred Ho: http://www.bigredmedia.com
A Harvard student of sociology, and recognized as the greatest baritone saxophonist of all times, author of 8 books, director for 30 years of the Afro Asian Music Ensemble, and inaugurator of the Apollo Theater series and the Red Rooster's Ginny's Supper Club, Fred Ho has transformed music. The magnitude and immensity of Fred Ho's stature in multiple fields and intersections can be best understood in the new book edited by Drs. Roger Buckley and Tamara Roberts, Yellow Power, Yellow Soul: The Radical Art of Fred Ho (University of Illinois Press), publication April 2013.
About the Knox gallery: http://www.knoxgallery.com
The Knox Gallery, directed by Charles Knox LaSister III, located in Central Harlem, offers an elegant exhibition space in which to experience contemporary art created by emerging and established fine artists of high quality and unique expression. The unifying theme of all the work exhibited expresses profound formal grounding, an aesthetic level of excellence and an expression of courage and clarity in the voice of each artist.
About the Red Rooster: http://www.redrooster.com
Directed by Iron Chef Marcus Samuelsson, the Red Rooster Restaurant represents an unparalleled fulcrum of racial and ethnic variety, the rarest of cultural enterprises to support and promote diversity – it its food, its atmosphere, its support of the arts and music, and its patrons. Ginny's Club offers a rich and spirited selection of live music in a super club environment reminiscent of the golden days of Harlem.