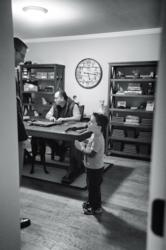 It's my calling to ensure that every family has the opportunity to celebrate the love shared in their family – their incredibly unique, loving, modern family.
Dallas, TX (PRWEB) February 08, 2013
"It's really as basic as that, isn't it? Love is… love," explains photographer Marcia Stuhler as she discusses both her philosophy of life and her photography business, Love Is Love Photography (http://www.loveislovephotos.com), in North Texas. It's a philosophy appreciated by the All Family Project, a national nonprofit organization that uses positive imagery to counter the negative narrative that is often aimed at same-sex couples and their families. Stuhler's portraits have been chosen to be included in the All Family Project's (https://www.facebook.com/AllFamilyProject) first-time photography exhibit at the Thoreau Center for Sustainability (http://www.thoreau.org) in San Francisco, which opens Thursday, February 7, and runs through April 5, 2013.
"Not long ago, I came to the realization that I have a special talent and that I want to do something special with that talent," says Stuhler. "I decided to pursue my passion of supporting families in the LGBT community by giving them gorgeous images filled with emotional detail and capturing unplanned, honest and authentic family moments. It's my calling to ensure that every family has the opportunity to celebrate the love shared in their family – their incredibly unique, loving, modern family."
A natural storyteller, Stuhler was raised by a woman who taught her the art of sharing life stories. While her mother was a storyteller of the oral- and written-history variety, Stuhler quickly learned that she loved to document life – and the love, loss and laughter that comes with it – through the lens of a camera. While happy to photograph all families, Stuhler specifically wanted to ensure that she told the stories of those who may seem different from the so-called norm, often ignored or set aside because of bias, what some might call "out of the ordinary" where others – like Stuhler – call them, simply, "extraordinary".
Love is Love Photography is Stuhler's way to offer storytelling for the modern family. She is passionate about sharing, through her dynamic work, the lifestories of all families, whether they come with one mom and one dad, a single parent, two dads or two moms, biological kids, adopted kids, foster kids or all of the above and then some. And when you meet this married, mother of three, Eminem-loving, steak-and-potatoes kind of gal, you may wonder why she feels so strongly about celebrating the families of the LGBT community. She'll reply, as you might expect, "Come on, now! Love. Is. Love!"
About Love Is Love Photography
A member of Professional Photographers of America (PPA) and Wedding and Portrait Photographers International (WPPI), Stuhler is best known for her lifestyle photography, what she says allows her to capture the true personality of each family. Love is Love Photography is based in Keller, Texas and offers photojournalistic maternity, newborn, child and family photography on location throughout the Dallas-Fort Worth area. She is also available for travel. For more information and to see samples of her celebrated work, visit http://www.loveislovephotos.com or contact Stuhler at (817) 532-2870 or marcia(at)loveislovephoto(dot)com.