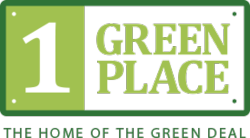 The long-awaited revolution in energy efficiency is finally here, and it's expected to not only help thousands of UK families pay less in energy bills, but also to provide a much needed boost to the country's economy
Wilmslow, Cheshire (PRWEB) February 06, 2013
One Green Place, a government-approved Green Deal assessment company, is pleased to announce the launch of their new website today. The site, TheGreenDeal.co.uk, intends to raise awareness, provide support and share vital information about the recently-launched government initiative the Green Deal, a revolutionary scheme that will enable householders to save significantly on energy bills.
"At the present, only one out of five Britons have heard of the Green Deal initiative and possesses the necessary information to start the process towards making their premises more energy-efficient," said representative of One Green Place. "Our goal is to inform as many householders and business owners as possible about the many energy saving improvements that could, in time, stop fuel poverty from rising and cut bills for everyone."
As a Green Deal advisory organization, One Green Deal will assess the energy efficiency of Britons' homes, help them fill out the Home Energy Survey and suggest the improvements that will bring in most savings. Since it is not linked to any home improvement sectors, the company can be trusted to act in homeowners' best interest as the tools, resources and advice it offers would help Britons spend less in household energy costs.
Launched in response to the increasing numbers of UK families affected by the rising cost of energy bills, the Green Deal scheme, announced last week by the Coalition Government, will help thousands of families "stay warm for less" and will also have an essential role in building a stronger economy, by supporting thousands of jobs in the long-run.
"The long-awaited revolution in energy efficiency is finally here, and it's expected to not only help thousands of UK families pay less in energy bills, but also to provide a much needed boost to the country's economy," continued representative of One Green Place.
One Green Place will also promote advantageous deals on energy-saving services and provide unbiased news and reviews about the latest energy-efficient products in the market.
For more information about the company's mission and goals, please visit thegreendeal.co.uk
About One Green Place
One Green Place is a division of The National EPC Company, the UK's largest independent provider of energy performance certificates (EPCs) for homes in the UK.
The company has been assessing the energy performance of homes for six years and has a network of surveyors right across the country, all experienced in advising homeowners how to improve the energy efficiency of their properties.
Contact Information
One Green Place
Suite 4
Grove Chambers
36 Green Lane
Wilmslow
Cheshire, SK9 1LD
Phone Number : 08456 262256