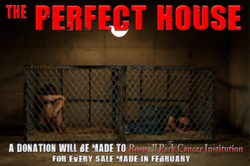 Digital Distribution provides enormous opportunities to connect directly with the audience and even reward them for their support.
Los Angeles, CA (PRWEB) February 11, 2013
Horror films aren't usually seen in a positive light, but the independent film "The Perfect House" is trying to change that. They are also altering the way people watch and interact with films. "The Perfect House" is an anthology with three vignettes about previous owners of one house, each short is set during a prolific period in horror history.
Kris Hulbert, the community-minded director of "The Perfect House," knew he wanted to shoot the movie in his hometown of Buffalo, New York. "Buffalo rallied around us. From the moment we stepped off the plane, we found passionate talent and local crew who put their hearts into every detail."
After making "The Perfect House," the first movie to premiere on Facebook, filmmaker and CEO of Gratwick Films, Kris Hulbert continues to blaze a trail and brand a name for himself and his 'band of rebels' as renegades and revolutionaries on the cutting edge of social media and digital distribution.
Hulbert knew he wanted "The Perfect House" to be distributed and shown in innovative digital formats, which will ultimately transform the way people experience movies. Hulbert passionately believes, "Digital Distribution provides enormous opportunities to connect directly with the audience and even reward them for their support." He felt so strongly that he specifically negotiated to retain the right to release "The Perfect House" on Facebook and through Distrify.
"The Perfect House" is also available on iTunes, Amazon, Google Play, VUDU and many other platforms. But now fans can find the movie on Facebook's Social Cinema and anywhere online a Distrify player is shared or embedded. These new platforms bring movie watching into the realm of social media.
Distrify, the future of film distribution, allows fans to watch and profit from their favorite movies in a player as viral as a YouTube video. The trailer, movie and a collection of bonus content can be watched, downloaded or purchased on any internet-enabled device: TV, computer, tablet and phone. Amongst the bonus features inside the player are two more first's in digital distribution: a selection of customizable DVD's and access to LIVE DVD commentaries. "Hangout with the creators of The Perfect House" via Skype or Google Hangouts is available exclusively through the Distrify player.
Gratwick Films is committed to offering high quality entertainment for the progressive internet users while supporting causes they believed in. Gratwick Films is donating a portion of the film's February sales to the Buffalo based Roswell Park Cancer Institute. Fans can help raise money for charity and for themselves: any person/host who registers as an affiliate before embedding or sharing the Distrify player on their website, blogs and/or social networks will be entitled to 10% of every sale through their player.
Producer Andrea Vahl shares her enthusiasm about the fundraiser, "In honor of the film's full VOD release and as a thank you for the support from the Buffalo Community, we are proud to donate a portion of each sale in February to Roswell Park to further cancer research and patient care."
"Roswell Park is truly grateful for Gratwick Films' pledge to raise awareness of cancer and support our mission to understand, prevent and cure cancer," said Jennifer Hickok, Director of Special Events and Corporate Sponsorships at Roswell Park Alliance Foundation. "Donations raised through the release of 'The Perfect House' will support the cutting-edge research and patient care programs at Roswell Park Cancer Institute, and most importantly, will help enable us to continue our fight to cure cancer."
Distrify will also be making a 5% matching donation for every transaction made through its player in February.
These socially beneficial and cutting edge approaches to filmmaking and distribution are just some of the tactics being implemented into the genetics of Gratwick Films' next production "Call Box", a throwback to the classic road trip sub genre of horror.
Fans and press are encouraged to join the campaign to "Unleash the Horror," and raise money for charity by registering as an affiliate inside the player and then sharing and/or embedding the video in any blog, website or social media platform.
"The Perfect House" stars Jonathan Tiersten (Sleepaway Camp), Monique Parent, and Chris Raab (Jackass), is being released February 10th, 2013 on VOD by Gravitas Ventures with exclusive DVD distribution through Gratwick Productions. The creator of the "Final Destination" franchise, Jeffrey Reddick, calls actor Jonathan Tiersten, "Intensely terrifying and riveting."