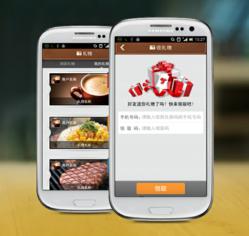 With Mobile Gifting, we have an innovative offering that leverages the emotional power of gift giving, while providing convenient purchasing and instantaneous delivery.
Shanghai, China and Austin, TX (PRWEB) February 07, 2013
Appconomy, Inc., developer of the Appconomy Commerce Cloud platform and mobile apps, announced today the launch of Mobile Gifting in its Jinjin mobile marketplace in China. With Mobile Gifting, merchants listed in the Jinjin app can make their products and services available for purchase by Jinjin users as gifts for their friends, family and colleagues. Initial merchants in the Mobile Gifting launch include casual and fine dining, hot pot, sushi, health and beauty services, and KTV. And, during the first several weeks of the launch, current and newly registered users of the Jinjin app can send a limited number of free mobile gifts from participating merchants. In Shanghai, they are Liuyishou, Zhoujun, Rainbow Sushi, and Bowbow Sushi and, in Beijing, they are Hongzhuangyuan, Shilingfang, Paopao, Holiday KTV, and Hanjiangxiu. After the launch promotion, the number of merchants and variety of gifts will expand significantly. Details of this promotion are available on the Jinjin website (http://www.jinjinapp.com) and Jinjin Weibo page (e.weibo.com/jinjinapp).
"The introduction of Jinjin Mobile Gifting in China is a significant milestone," said Joe Canterbury, Appconomy's Chief Operating Officer and head of global business development, sales and marketing. "With Mobile Gifting, we have an innovative offering that leverages the emotional power of gift giving, while providing convenient purchasing and instantaneous delivery. When combined with the desire to be rewarded for repeat purchases from our loyalty program, the two create a strong attraction for new customers. The combination of Mobile Gifting and Loyalty also increase the overall engagement amongst existing customers of merchants participating in the Jinjin loyalty program. No one else is doing this today in China."
In the past year, eGifting has proven to be a very popular application in the US and shown potential for enormous growth in retail. While the Gifting market was worth $100 billion in 2011, according to an April 2012 report by the CEB Tower Group (for US only), the eGifting industry comprised a rapidly growing segment of the industry, generating $1 billion in sales with the majority of growth coming from mobile apps, forecast to grow 12-fold over the next two years. With Mobile Gifting, users have said they appreciate the convenience of using apps for a myriad of gifting occasion – from small "thank you's" for colleagues and friends to special occasions for family and loved ones.
Mobile Gifting is the latest component of a unique mobile toolkit that Appconomy has developed, catering to both large and small merchants, that also includes loyalty and member rewards, social sharing, a closed loop system of offers and redemptions, and a flexible web console to help merchants create, manage and track their marketing campaigns.
Here's how Mobile Gifting works: Registered users of the Jinjin mobile app can browse a section of gifts featured by participating merchants. When they see a gift that they want to give, they choose it, select the quantity, personalize it with a message, and address it to the recipient's mobile phone. After they pay for it (currently via Alipay, with more payment options planned for the future), a notification of the eGift is sent to the recipient via SMS message. In the SMS message, the recipient clicks on a unique, secure ID that then opens up the Jinjin app or – in the case that the user isn't yet registered with Jinjin – the download and sign-up process for Jinjin. Once the recipient logs in to their copy of Jinjin, they will see the eGift that they received and be able to redeem it at their will, according to the terms and conditions of the gift. Since the eGift is stored securely inside Jinjin, they will never lose it or delete it.
About the Jinjin App
The Jinjin marketplace features dozens of popular Chinese and global retail brands, with hundreds of locations in Beijing and Shanghai. Merchants include popular food & beverage chains Golden Phoenix Bakeries, Burger King, XiabuXiabu, Pepper Lunch, among many others, as well as a variety of high-end health, beauty, and other goods & services merchants. It is available immediately from the Jinjin website (http://www.jinjinapp.com) and popular Chinese Android app stores, e.g., HiAPK, Wandoujia, and Gfan, and will be available within days in iTunes for iOS users.
About Appconomy, Inc.
Appconomy operates a cloud-based platform for mobile marketing and commerce that directly connects consumers and merchants through its Jinjin marketplace and apps for smartphones, tablets, and feature phones. For more information, visit http://www.appconomy.com.