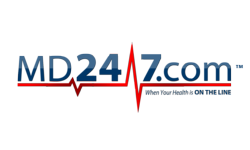 MD247 Reviews Ripoff Report Entries.
Tampa Florida (PRWEB) February 06, 2013
MD247 communicated with all program members on February 05, 2013 to discuss telemedicine customer care issues reported to the sites Scam Informer, Scam Book and Ripoff Report.
The need to review consumer reports filed on the reporting sites was a component in the MD247 planned policy to support customer care transparency at a corporate level. The goal is to make information regarding customer care policies within MD247 widely known to all program members and new telemedicine team members. Members of the MD247 Customer Care Team explained that they want to give program members easy and open access for making their concerns about the telemedicine program easy to file. Sites like Scam Book; Scam Informer and Ripoff Report make it difficult for questions and concerns to reach a positive end as they give a business very little opportunity to resolve complaints.
MD247 is a telemedicine service provider working daily to provide families an affordable form of supplemental healthcare. The program offers services on a national level, but is currently taking steps to provide Los Angeles residents a program that allows the residents to talk to a doctor in Los Angeles at a steeply discounted fee.
Scam Book, Scam Informer and Ripoff Report are considered to be consumer protection websites.
MD 247 is a twenty-four hour a day affordable concierge telemedicine company based out of Seminole Florida. All members have unlimited telephone access to a nationwide medical support team with just a phone call. MD247.com has a virtual platoon of Registered Nurses and board certified physicians available to members for all non-emergency situations. You can learn more about MD247.com by visiting http://www.md247.com.