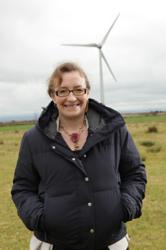 Good Energy strives to lead the way in thinking around the energy challenges we face, both now and in the future. - Juliet Davenport OBE, CEO and founder of leading renewable electricity supplier Good Energy
London (PRWEB UK) 7 February 2013
Leading renewable electricity supplier Good Energy and world-class university Birkbeck, University of London, have today launched a pioneering new PhD studentship on renewable energy.
At a time when energy bills are hardly out of the headlines and renewable energy is a hot topic for industry, consumers and government alike, the student awarded the funding will assess what would happen if we didn't invest in renewable energy technology, given the rising global energy demand.
The fully-funded four-year studentship offers an exceptional candidate the opportunity to draw on expertise from industry and study in central London at Birkbeck – one of the top 200 universities in the world.
The research project is a result of long-standing close links between Good Energy – the UK's leading 100 per cent renewable electricity supplier – and academics at Birkbeck. Juliet Davenport OBE, CEO and founder of Good Energy, studied an MSc in Economics at Birkbeck (1992-1994), and is pleased to be supporting this joint undertaking with researchers at her alma mater.
Davenport said: "We're hugely excited to be working with Birkbeck in supporting this studentship. Good Energy strives to lead the way in thinking around the energy challenges we face, both now and in the future. In looking at those challenges in a new way, we hope that we will all be better placed to provide the solutions needed to meet them."
Professor David Latchman CBE, Master of Birkbeck, said: "I am delighted about the Good Energy PhD studentship. This provides a brilliant opportunity for an exceptional student to investigate this important area at a time when postgraduate funding is in very short supply. We are extremely grateful to Juliet and Good Energy for their support."
Good Energy is funding the studentship, which covers the cost of tuition fees for Home/EU students, provides a maintenance grant of £15,784 per year for four years, and includes support for research costs, fieldwork and attending conferences. The award is the first fully-funded PhD studentship provided by a company for studies at Birkbeck's School of Social Sciences, History and Philosophy.
Applicants should hold a good first degree (at least an Upper Second Class Honours or equivalent) and preferably an MA or MSc in a relevant subject. The closing date for applications is Friday 1 March 2013 with interviews expected to take place in early April. The studentship will commence in October 2013.
For more information:
Visit Good Energy PhD Studentship
ENDS
Notes to editors

Good Energy is the UK's leading 100 per cent renewable electricity supplier.
Good Energy came top in the Which? customer satisfaction survey for energy suppliers in 2013, 2012 and 2010.
With around three-quarters of the UK's carbon emissions coming from the energy sector, the company was founded in 1999 so that people could make a difference in tackling climate change when it came to choosing their energy supplier. The company believes that the UK has the resources to be 100% powered by renewable energy in the future, removing its current reliance on importing expensive fossil fuels.
Good Energy has been a catalyst for change in the energy market. A champion of independent renewable electricity producers, it supports a community of 40,000 green generators and supplies over 30,000 homes and businesses.
Good Energy's main tariff is certified by the independent Green Energy Supply Scheme, which guarantees it delivers a genuine environmental benefit.
For more information about Good Energy visit http://www.goodenergy.co.uk or contact: Kate Turner, External Affairs Executive (kate.turner(at)goodenergy(dot)co(dot)uk, 01249 766783).
Birkbeck, University of London, is a world-class research and teaching institution, a vibrant centre of academic excellence and London's only specialist provider of evening higher education since it was founded in 1823.
Birkbeck was ranked among the top one per cent of universities worldwide in the
Times Higher Education World University Rankings 2012. The list represents the top 200
universities worldwide.

Birkbeck is recognised for providing the highest quality teaching that is informed by our outstanding research excellence. The College has consistently ranked number one in the National Student Surveys.
Nearly 19,000 students study at Birkbeck every year. They join a community that is as diverse and cosmopolitan as London's population.
For more information about Birkbeck visit http://www.bbk.ac.uk or contact Guy Collender, Communications Manager (g.collender(at)bbk(dot)ac(dot)uk , 020 7380 3108).