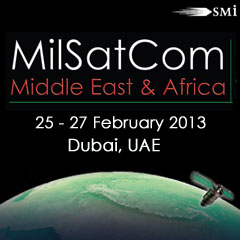 Dubai, UAE (PRWEB UK) 6 February 2013
MilSatCom Middle East & Africa 2013 will launch on the 25 – 27 February 2013 in Dubai, UAE; bringing together the largest gathering of high level government, military and industry SATCOM experts from within the Middle East & Africa region.
Brought to you by SMi Group, the organisers of Global MilSatCom – the world's leading military satellite communications conference & exhibition; the three day event will feature high level presentations, leading keynote addresses, case studies, interactive panel discussions and an exclusive site visit.
The latest security and communications challenges faced by one of the world's most forward-moving markets will be addressed by a stellar line-up of key military figures. Key presentations will be led by representatives from the Qatar Armed Forces, Nigerian Air Force, Pakistan Police Force, UK MoD, National Authority for Remote Sensing and Space Sciences (NARSS) Egypt and European Defence Agency.
According to David Cavossa, Harris CapRock's President of Government Solutions, "This conference will bring together all the stakeholders in satellite communications for the Middle East and Africa region. As the world's most trusted provider of fully managed communications in remote environments, Harris CapRock is one of those stakeholders and values the opportunity to dialogue with other leading industry experts."
Alongside Harris Caprock, MilSatCom Middle East & Africa enjoys support from some of the biggest communications solution providers in the industry including AGi, Astrium, Eutelsat, iDirect, Inmarsat, Lockheed Martin, Rockwell Collins, Spacex, Space Systems / Loral and Thuraya.
Alongside the two day event, attendees will also have the chance to attend a post-conference site visit to Sharjah Primary Gateway and Thuraya HQ, taking place on the 27 February 2013.
For further information and to register your place please visit http://www.milsatcom-mea.com
Companies wishing to attend can also contact the MilSatCom ME&A team on +44 (0) 207 827 6054 / 6162 or email jhitchen(at)smi-online(dot)co(dot)uk
ENDS
About SMi Group
Established since 1993, the SMi Group is a global event-production company that specializes in Business-to-Business Conferences, Workshops, Masterclasses and online Communities. We create and deliver events in the Defence, Security, Energy, Utilities, Finance and Pharmaceutical industries.
We pride ourselves on having access to the world's most forward thinking opinion leaders and visionaries, allowing us to bring our communities together to Learn, Engage, Share and Network. We hold events in over 30 major cities throughout the world including London, Paris and Singapore and to date and have welcomed over 200,000 participants from 80 countries.
For more information, please visit http://www.smi-online.co.uk