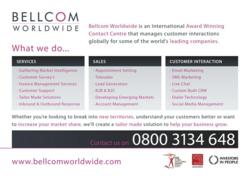 Glasgow (PRWEB) February 08, 2013
One of its new clients, Investors in People has commissioned Bellcom Worldwide to conduct a UK-wide Lead Generation and Appointment Setting campaign.
The other client, a well-known financial services provider is undertaking an Invoice Management project, which calls in to 90 countries worldwide. This service utilises Bellcom's highly skilled multilingual team from countries such as China, Japan, France, Finland, Germany and Spain.
Both campaigns are off to a great start, due to the highly talented teams set in place.
To find out more about these services, visit these pages on our website:

Lead Generation
Appointment Setting
Bellcom is looking forward to a prosperous year ahead, with another large campaign due to commence in March. This contract will ensure another 5 jobs, with a view to increase as the project progresses.
Bellcom Worldwide has a strong reputation for creating jobs in Glasgow's call centre industry.
In June 2010, 500 jobs were created as part of a programme which aimed to give people who are unemployed, on disability allowance, or lone parents a route back into work.
Varry McMenemy, Bellcom's Managing Director is also President of Glasgow's Chamber of Commerce and is actively involved in the city's economic strategy.
In other news, Bellcom recently announced its staff had chosen to support Yorkhill Children's Foundation as their charity for the year ahead. They are looking forward hosting a range of events, raffle prize give-aways and other fun activities to raise funds.