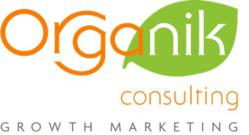 "In one morning, you can learn a lot about how social media and content marketing can grow your organization and it's free,'' said Organik President Nicole Meloche.
GRAND RAPIDS,Mich. (PRWEB) February 08, 2013
Organik Consulting Growth Marketing and Constant Contact are teaming up to offer three free "Social Media Made Simple'' seminars in Grand Rapids, Lansing and Traverse City to help small businesses and nonprofits learn how social media can drive success.
"In one morning, you can learn a lot about how social media and content marketing can grow your organization and it's free,'' said Organik President Nicole Meloche.
The events are in three convenient locations across Michigan:

Registration is also available at http://www.organikconsulting.com
Social Media Marketing Made Simple
In just a few short hours, this information-packed seminar will review the essential strategies and best practices a business or organization should understand to successfully get started with social media marketing. The seminar will cover:

What social media marketing really is and why it's important.
Various social media networks and tools: how they interact, ways to leverage their strengths, and how to evaluate them for best use for your business or organization;
How other businesses are using these low-cost tools to gain visibility, develop relationships, and drive sales and engagement;
How to incorporate social media marketing into your business life without losing productivity.
The classes will be taught by Nicole Arnold of Little Cottage Services, LLC, an Authorized Local Expert of Constant Contact®, Inc., Little Cottage was created to help entrepreneurs build meaningful, lasting relationships with their clients; something Nicole had been practicing for years.
"Constant Contact is pleased to be working with both Nicole Meloche and Nicole Arnold to bring this series of free educational seminars to businesses throughout the state of Michigan. The seminars focus on online marketing best practices and are designed to help attendees engage with their key audiences, drive ongoing dialogues, and build lasting customer relationships, which of course, is the key to success for any business." states Steve Robinson, Constant Contact, Midwest, United States and Canada Director.
____________________________________________________________________________
About Organik Consulting Growth Marketing: Organik Consulting: a Michigan Digital Marketing & Communications firm. Grand Rapids | Ann Arbor | Traverse City. Content marketing grows ROI, Reputation and Relationships. http://www.organikconsulting.com 616-438-7507
About Little Cottage Services LLC: Little Cottage Services, LLC is a marketing consultancy firm owned by Engagement Marketing Maven, Nicole Arnold. Little Cottage knows how to take your business from invisible to irresistible by using tools such as effective online presence, email marketing, and social media. Nicole Arnold is an Email Marketing Services Expert, an Authorized Local Expert with Constant Contact®, and is a Certified Inbound Marketing Professional. For more information, contact nicoleslittleco(at)gmail(dot)com or (810) 569-6459. She is available for consultation by appointment and can be found online at http://www.littlecottageservices.com or http://www.facebook.com/littlecottageservices.
About Constant Contact, Inc.
Constant Contact wrote the book on Engagement Marketing™ – the new marketing success formula that helps small organizations create and grow customer relationships in today's socially connected world. More than half a million small businesses, nonprofits and associations worldwide use the company's online marketing tools to generate repeat business and referrals through email marketing, social media marketing, event marketing, local deals and online surveys. Only Constant Contact offers the proven combination of affordable tools and free KnowHow, including local seminars, personal coaching and award-winning product support. The company further supports small organizations through its extensive network of consultants/resellers, technology providers, franchises and national associations.
###