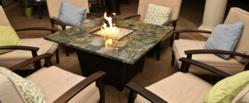 Orlando, Fl (PRWEB) February 18, 2013
Firetainment, Inc., producer of quality fire tables and supplier of fire table cooking accessories, will be reaching residential and commercial outdoor markets in the next few months using various dealer and media outlets. Firetainment fire tables will be showcased next month at North America's largest hearth and patio show along with luxury events such as Concours d' Elegance and Festivals of Speed. The Firetainment product will also be featured on HGTV's and DIY Network's popular show, Decked Out.
After the launch of the fire table, Firetainment is seeing an increased interest for their products. The Firetainment product is the only table on the market that offers a cooking option and it is getting a great response. With more versatility and convenience than traditional wood burning fire pits, Firetainment tables offer the benefits of a fire pit but also many other features to complete the outdoor living space. The tables are full size and functional as a regular dining table and they include a cooking mount and complete cooking package to prepare meals. The idea behind the fire table is that it performs three functions in one: fire + table + cooking; thus providing the ultimate entertainment experience. This concept continues to be the reason for consumer interest and new marketing programs implemented by Firetainment. A Firetainment Dealer Program is available for qualified dealers around the country. Dealers are being offered an exciting new product that is one-of-a-kind on the market. Firetainment promises a high quality, durable product and great customer service.
Firetainment products will be showcased at the Hearth, Patio & Barbeque Expo taking place at the Orange County Convention Center located in Orlando, Florida. This show takes place Wednesday, March 13th through Saturday, March 16th, 2013. The HPB Expo is North America's largest outdoor living showcase. Every year, more than 350 leading hearth, patio and barbecue manufacturers and suppliers exhibit and demonstrate their latest home heating solutions; grills and fully-equipped outdoor kitchens; casual patio furniture and outdoor accents; water and landscape features; all-weather entertainment products and more. The show attracts more than 5,000 specialty and mass-market retailers, and professionals interested in getting a first look at the indoor-outdoor living innovations that consumers will be asking for in the seasons ahead. The Firetainment display booth will be located at #1651 with a fire table also on display in the New Product Pavilion. More information on the show can be found at http://www.hpbexpo.com.
Firetainment will be participating in two prestigious automotive events in the month of March. They will be displaying fire tables at the Concours d' Elegance event located at the Ritz-Carlton in Amelia Island, Florida and the Festivals of Speed located at the Omni Amelia Island Plantation Resort. The events take place Friday March 8th through Sunday March 10th, 2013. On display will be hundreds of exotic automobiles, custom motorcycles, powerboats and luxury lifestyle companies. For more information on the events visit http://www.ameliaconcours.org and http://www.festivalsofspeed.com/amelia-island
Fire tables by Firetainment will be featured on upcoming episodes of Decked Out aired on HGTV and DIY Network. The new Decked Out season begins in March and follows cutting-edge deck builder Paul Lafrance and his crew as they build decks and outdoor spaces. Firetainment tables were used in the filming of innovative deck designs that will be featured on the show. Information on the show can be found at http://www.hgtv.ca/deckedout or http://www.diynetwork.com/decked-out/show.
More information about Firetainment is available online at http://www.firetainment.com.