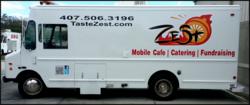 Orlando, Fl (PRWEB) February 06, 2013
Prestige Food Trucks, a quality builder and designer of custom food trucks, has recently moved locations and expanded it's services in the central Florida market.
Prestige Food Trucks manufactures, repairs, remodels, and customizes food trucks, trailers, and carts. They service central Florida but can also ship vehicles or carts around the country. The concept behind Prestige Food Trucks was first created when it's owners needed a quality, competitively priced food truck for their own mobile food service business. They recognized the need and the ever-increasing demand for mobile food units. Backed by engineering and custom vehicle building experience the team was able to develop a cost effective and state-of-the-art food truck offering.
The mobile food industry has been steadily taking precedence as one of the major industries that has been able to flourish, and there is no indication that this trend will change. In the past few years, the street vendor industry has surged ahead because of new consumer demand for unique and gourmet food trucks. Because of this industry growth Prestige Food Trucks has recently moved to a new location, which will allow the company to keep up with demand and offer additional services.
Besides manufacturing custom food trucks Prestige also offers a full service center where trucks can be maintained, repaired and fully cleaned. Prestige Food Trucks has the resources to be a one-stop shop for all food truck needs. They not only build and refurbish food trucks they help with any maintenance along the way. When food trucks are being maintained or not in use the new location provides areas for storage and parking of mobile cafes and food trucks. Prestige Food Trucks also has a custom wrap service to freshen up the outside of existing and new trucks.
On the financial side, Prestige Food Trucks purchases, finances, leases and rents mobile cafes, carts and food trucks. This program is managed by a financial professional that is familiar with the latest lease and/or finance programs, tax benefits, and the most recent industry trends. They will work closely with individuals or companies to structure the most efficient and cost-effective lease and/or finance program suitable to a company's capital needs. The company's current customers are involved in various industries; including research and development, manufacturing, and the distribution of goods and services.
Prestige Food Trucks is available to assist their customers from concept to completion and offers food trucks that perform to perfection. All of the available services and convenient location make this company an easy partner for anyone in the food truck industry. Prestige Food Trucks promises high quality, fast turn around time and competitive pricing in order to meet the growing demand.
More information about Prestige Food Trucks is available online at http://www.prestigefoodtrucks.com.
Financial capital for Prestige Food Trucks is provided by Prime Pinnacle,LLC, a private investment firm. Prime Pinnacle focuses on alternative capital investments in well-secured PPMs (private placement memorandums) as well as financial investments in small to medium sized companies. Prime Pinnacle's philosophy is to provide members with capital preservation and growth through a well-designed business plan, capable management, effective cost control program, significant earning capacity and solid debt management. For more information visit http://www.primepinnacle.com.