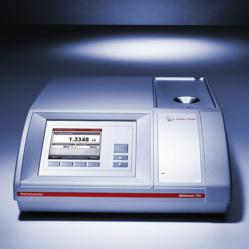 Ashland, Virginia (PRWEB) February 07, 2013
The Abbemat series of refractometers from Anton Paar is now extended to include Abbemat 200. Four decades of expertise in refractometry and high-precision engineering from Anton Paar went into producing this straightforward benchtop refractometer. The Abbemat 200 provides accurate and reliable refractive index results for all industrial branches. A multitude of methods stored in the Abbemat 200 software allows determination of the refractive index and concentration of a wide range of substances, from perfumes to petroleum, juices and syrups to sugar.
As temperature is the biggest influencing factor on the refractive index, the Abbemat 200 is equipped with a built-in high-end Peltier thermostatting unit. This precisely controls the temperature between 10 °C and 60 °C without the need for an external thermocirculator. Measured data are stored in the memory and available for printout or export as an Excel file via RS232 and USB interfaces. The Abbemat 200 refractometer is ideal for laboratories that require a limited number of measurements without any complex data processing.
Automated measurements, network communication and software features which support requirements according to 21 CFR part 11 are available with the other refractometers in the Abbemat series. The refractometers of the Performance and Performance Plus line can be expanded with Anton Paar modules to provide automatic measurement of further parameters in one cycle. These include measurement of density, viscosity, pH, optical rotation, turbidity, color and other calculated quality parameters of liquids. For special applications, the Abbemat Heavy Duty line allows measurement of aggressive samples and measurement at high temperatures or multiple wavelengths.
For more details visit http://www.anton-paar.com or call (800)722-7556.