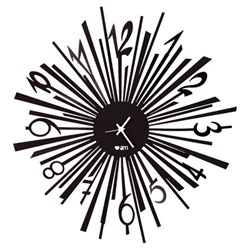 Arti & Mestieri Clocks are a popular addition to the modern home and Contemporary Heaven stocks a wide choice
(PRWEB) February 08, 2013
Contemporary Heaven has been stocking Arti & Mestieri Clocks for seven years and has now made their entire range available in the US. An amazing home accessory designer brand, Arti & Mestieri have created three new funky clock designs which are now stocked at Contemporary Heaven US and are available to buy online. Arti & Mestieri Clocks are a popular addition to the modern home and Contemporary Heaven stocks a wide choice, including well-known designs such as the Big Big Bang Clock, the Scooby Doo Clock, the Dali Clock and the Astro Clock. Also available online are home accessories from other designer brands, including modern clocks, kitchen dining accessories, wall mirrors, personalized gifts, barware, photo frames, cushions and rugs.
Omelette is a fun new addition to the Arti & Mestieri clocks range, with a novelty design which succeeds in making the clock fresh and appealing. The overall impression of the design has been specifically arranged to remind the viewer of an egg frying in a pan. Metal construction makes the clock sturdy and adds to the frying pan shape, while the off-centre dial with the egg design in the middle is nestled in the outer metal shape. Omelette has a very three dimensional look that is enhanced by the angles of the metal exterior and a fun appearance which is created by the clever design. This wall clock holds great eating or food themed potential and so is a perfect addition to any food preparation or dining areas, whether in the home or in a more professional environment.
Love Exploit is also a new addition to the Arti & Mestieri range and is very similar to the larger and more three dimensional luxury Exploit Wall Clock which is already stocked at Contemporary Heaven. Love Exploit is a fascinating modern wall clock, made from metal and available in two colors – black or metallic grey. Essentially the design of the clock gives the impression of a star or an explosion with many shaped prongs radiating out from the central dial to give a structured yet whimsical effect that is eye-catching and modern. The funky numbers incorporated into the explosion design have a very abstract quality which serves to increase the modern style of the clock.
Cabiria is the third new design to make an addition to the Arti & Mestieri collection and is very interesting to behold. Featuring a very airy design, Cabiria is based upon a central white dial crafted into the shape of a chunky number 12. This funky dial is then enhanced by the addition of an organic looking black metal decoration, which swirls like a ribbon around the entire clock to loosely form the numbers 3, 6 and 9. With very open construction, a three dimensional appearance and contrasting design, Cabiria grabs the attention and becomes a great talking piece.
About the Company
Contemporary Heaven is a Hertfordshire based retailer and manufacturer with online outlets in the UK, Holland, France, Germany, Poland and the US. They are a subsidiary of Roco Verre LTD which has been in existence for more than 15 years, supplying a range of home accessories to retailers, businesses and individuals. Their range of home accessories includes modern clocks, custom time zone clocks, personalised school clocks, coasters and placemats, unusual wall mirrors, storage solutions, contemporary lighting, bathroom accessories, barware and much more.
For more information, visit http://www.contemporaryheaven.co.uk/
Contact Details:
Contemporary Heaven
1842 Vistazo Street West,
Tiburon, CA 94920