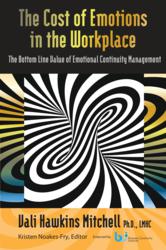 "Left unattended," says Mitchell, "human emotion can turn into something so serious it can catastrophically influence the bottom line of the business as well as the individuals."
Brookfield, CT (PRWEB) February 11, 2013
In her dynamic new book, The Cost of Emotions In the Workplace, Dr. Vali Hawkins Mitchell, Ph.D., LMHC, a leading authority in the growing field of Emotional Continuity Management (ECM), emphatically cautions C-Suite Executives that ignoring the impact of employee emotions in the workplace is a recipe for disaster.
"Left unattended," says Mitchell, "human emotion can turn into something so serious it can catastrophically influence the bottom line of the business as well as the individuals."
The concept of Emotional Continuity Management stems from the more traditional Business Continuity Management (BCM) methodology used by company leadership to identify, assess, analyze, and plan for the potentially disruptive risks and threats faced by their organizations and business units. However, according to most experts in the field, while people are factored into BCM plans, they are most often treated as a "recoverable resource – numbers to be counted and skills to be replaced." In the current world of security analysis, risk assessment, change management, and crisis management, human emotions do not always have a dollar value.
By contrast, Mitchell warns that the effects of emotions in the workplace are significant and measurable, and demonstrates through dozens of real–life examples taken from her own experience, that protecting people and the bottom line is – and must be – the new normal for world class companies.
She adamantly advises that managing emotions cannot be the sole domain of the Human Resources Department, that every employee in an organization – from the top down and from the bottom up – can benefit from learning how to productively manage and channel workplace emotions.
The Cost of Emotions InThe Workplace is a practical, hands-on training guide that offers corporate executives the tools they need to identify where the risk of human emotions lies and ultimately decide how much risk the business can absorb. Within the process Mitchell coins the term "emotional tornado" to describe the cumulative effect of escalating, emotionally-charged human energy as it develops a life of its own. Caused by circumstances in a person's private or work life, an individual's emotions have the potential of spinning out of control.
When this happens, financial costs to the organization can range from simple to profoundly complex, ultimately affecting stamina, productivity, company loyalty, absenteeism, healthcare costs, and managerial conflict-resolution time, all of which contribute to a toxic work environment.
The Cost of Emotions in the Workplace is the culmination of years of Mitchell's experience in a wide variety of venues and situations. Putting these experiences into a practical context, Mitchell guides executives to:

Understand that emotions are going to happen and they do not go away;
Realize that emotions do have measurable costs;
Know that if suppressed, ignored, or devalued, emotions distort and become even more lethal;
Observe, predict, prepare, and write policy to manage the full range of workplace emotion;
Manage office bullies who are too often managers themselves;
Calculate the managerial and productivity costs of an emotional incident.
In one scenario, Mitchell draws from her training as a Certified Traumatologist to compare the escalating workplace tension caused by two violent co-workers to her own on-site experience counseling first responders and victims of 9/11, Hurricane Katrina, and the Indonesian Tsunami:
"Walking the halls, I saw, felt, and heard the disruptive effect of two workers on 600 people," recalls Mitchell. "It was like experiencing the rubble of any other disaster. People took sides, hid, ran, overworked, underworked, ate too much, drank more, complained more, went silent, quit. I became sensitized to the differences between small gusts of emotions with no power and those with catastrophic force."
"Emotional Continuity is not a soft subject," says Lyndon Bird, Technical Director, The Business Continuity Institute. "In her book Dr. Mitchell persuades organizations to look more closely at this commonly overlooked subject. She makes a compelling case that it relates directly to cost and increased risk − which should definitely take human emotions much higher up the Board agenda."
About the Author
Vali J. Hawkins Mitchell, Ph.D., LMHC, holds a Doctorate in Health Education and Masters degree in Applied Psychology and is a Certified Traumatologist. She is considered a leading authority in the growing field of Emotional Continuity Management and a highly regarded public speaker, author, consultant, and educator. http://www.ImproVizion.com
About the Publisher
Rothstein Associates Inc. has published information about Business Continuity, Disaster Recovery, and Emergency, Risk, and Crisis Management in a variety of formats, including books, templates, CDs, and software, since 1989. The company was founded and is currently headed by Philip Jan Rothstein, who was elected a Fellow by The Business Continuity Institute (BCI) in 1994 in recognition of his substantial contributions to the business continuity and disaster recovery professions. Contact him at pjr(at)rothstein(dot)com; Learn more at http://www.rothstein.com
The Cost of Emotions in the Workplace: The Bottom Line Value of Emotional Continuity Management
Vali Hawkins Mitchell, author; Kristen Noakes-Fry, editor
ISBN 978-1-931332-58-3, 6x9 trade paperback, $39.95; Publication Date: February 15, 2013
Available at Amazon.com and from bookstores worldwide