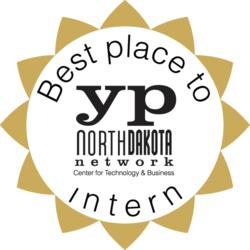 We have hired some amazing interns that have become permanent members of our team.
Fargo, N.D. (PRWEB) February 07, 2013
Onsharp is honored and excited to be the 2012 recipient of the Best Place to Intern Award presented by the North Dakota Young Professionals Network.
The award was created to acknowledge creative approaches that enrich careers for young professionals in North Dakota. To be considered for the award, applicants must submit a detailed questionnaire regarding the work styles, environment and contribution consideration. A statewide committee of NDYP members then judged and selected Onsharp the recipient of the Best Place to Intern Award.
"We've been very fortunate at Onsharp in that we have hired some amazing interns that have become permanent members of our team. Their contributions as interns have helped them jump start their careers with us," says Director of Operations, Karn Jilek.
The web consulting firm has a simple vision: Drive Success. This includes driving success for our clients and our employees, their families and our community. Interns aren't treated any differently. Onsharp interns are given the tools, ability and support to drive success in whatever projects and jobs they are involved in while working with our company. The company has offered a variety of internships over the last few years including Marketing, Public Relations, Online Marketing, Web Development and Accounting.
Currently, Onsharp is looking for Online Marketing and Web Developer Interns. For those interested in learning more about these positions please visit our website. http://www.onsharp.com/careers/current-openings/
Onsharp is an interactive agency that architects, builds, and supports web-based solutions. We're passionate about technology, but not just because we think it's cool. We are experts at helping businesses understand how new technologies and trends can help them meet customer demand while improving productivity. Onsharp strives to create success in the lives of all people, businesses, and communities they serve. For more information about Onsharp, please visit http://www.onsharp.com or call toll-free at 1.866.ONSHARP.