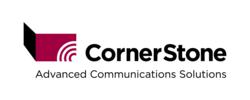 Troy, New York (PRWEB) February 06, 2013
CornerStone, an advanced communications solutions provider, announced today that Parallels, a worldwide leader in hosting and cloud service enablement and desktop virtualization, has named CornerStone North American Regional Partner of the Year.
The Regional Partner of the Year award recognizes a partner in every major region – Europe, Asia-Pacific, Latin America, North America, Russia/Middle East/Africa – who has demonstrated the ability to provide easy-to-use cloud services and who also has a growing base of satisfied SMB customers.
"CornerStone has made the shift from being just a voice and data provider to business customers, into the position of providing comprehensive cloud solutions that include both cloud voice and cloud computing," said Dan Yamin, Chief Executive Officer at CornerStone. "Receiving the Partner of the Year award from Parallels is an honor and shows the tremendous growth our organization – both in revenue and market share - as we've earned the role of a trusted advisor to our business customers, offering them the benefits of one-stop service and support."
Alex Finn, our President of Data Center Services, accepted the award at the Parallels 2013 Summit in Las Vegas.