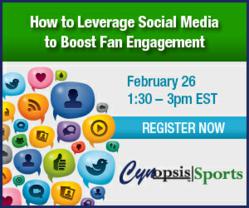 New York, NY (PRWEB) February 07, 2013
Experts from Golf Channel, INDYCAR, LockerDome and NHL will share latest must-have strategies to help attract, captivate and connect properties across multiple platforms, from mobile to tablet, and from Facebook to Google+ to Twitter via apps, games, original content and promotions at the February 26 webinar, "How to Leverage Social Media to Boost Fan Engagement" Hosted by Cynopsis: Sports, this interactive virtual workshop is the key to expanding one's audience through mobile - Instagram, Tout, Viddy and more!
Social media experts, Kate Guerra (Social Media Manager at INDYCAR), Susie Lokey (Sr. Director, Consumer Marketing at Golf Channel), Gabe Lozano (Co-Founder/CEO at LockerDome) and Caty Marzi (Manager, Social Media Business Development at NHL), will share smart, proven strategies and tactics that have led to successful engagement with their audiences.
This 90-minute webinar will address such topics as:

Analyze social media activity to determine which platforms – Twitter? Tumblr? are most effective in reaching the audience.
Leverage the new free marketing platforms.
Optimize the marketing shift from simply measuring "likes" to measuring amplification, cross-channel impressions, and more.
Exploit fan sourcing to build brand loyalty.
Expand your audience through mobile - Instagram, Tout, Viddy and more!
Unlock the latest methods to use second-screen experiences to glean more actionable data from the audience
This interactive webinar will allow for real time Q&A's to ensure specific questions are answered.
To register for the Sports Webinar: How to Leverage Social Media to Boost Fan Engagement, visit: http://www.cynopsis.com/webinars/sports-social-media/
Webinar attendees receive full access to speaker presentations along with a certificate of completion. Webinar tuition is based on location, not number of participants, so each registration site can have multiple participants for one low price.
Questions? Contact Trish Pihonak at trish (at) cynopsis (dot) com.
About Cynopsis Media
Cynopsis Media is a division of Access Intelligence LLC. The Cynopsis Media family of products includes Cynopsis, Cynopsis: Digital, Cynopsis: Kids and Cynopsis: Sports daily e-publications, weekly Cynopsis: Classified Advantage e-publication, Special eReports, Event/Summits and a strong database of Classifieds and more. Visit http://www.cynopsis.com.
###