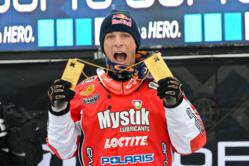 I barely got the sled put back together in time for the race after my gnarly practice crash. I made sure I had a layer of Loctite Threadlocker on all my nuts and bolts so my sled and my leg would stay together.
Rocky Hill, Conn. (PRWEB) February 06, 2013
At X Games Aspen 2013, Henkel-sponsored athletes "Monster" Mike Schultz and Levi LaVallee struck gold in dramatic fashion. Not once. Not twice. But three times. For both extreme athletes, Loctite® adhesives and sealants played critical roles in keeping their snowmobiles in top performance shape and their bodies safe and strong through the physical demands of competition.
In a sensational race, two-time defending Snowmobile Snocross Adaptive gold medalist "Monster" Mike Schultz rallied to win his third consecutive gold medal. In an untimely practice run, Schultz crashed just 15 minutes before the Snocross Adaptive event was set to begin. His snowmobile sustained damage to its frame and was hastily fixed for race time. When his sled was struck from behind and flipped going into the first turn, most spectators thought he was out of the competition. But Schultz, an above-the-knee amputee and inventor of the Moto Knee (a high impact, high flexion, multi-sport prosthetic knee joint), latched the sled's body panels back on, remounted, and launched his comeback from last place. With just a half a lap to go, Schultz took over the lead and held it to the finish line.
"This stands out as one of the best races of my career," said Schultz. "I barely got the sled put back together in time for the race after my gnarly practice crash. I made sure I had a layer of Loctite® Threadlocker on all my nuts and bolts so my sled and my leg would stay together. Next the flag flew, I started the race, crashed in the turn, got back on and put my head down to charge as fast as I possibly could. And I came back to win. Crazy things happen in snocross racing!"
In another powerful showing, pro snocross racer and freestyle rider Levi LaVallee defied gravity on his snowmobile, flipping high in the air to earn two gold medals. In the Snowmobile Freestyle event, he completed nine jumps in 75 seconds and nailed huge extensions and perfect landings on a no-hands backflip, a no-feet backflip and a backflip with his hands on the handlebars, but feet off and fully extended to his back bumper. For LaVallee's second gold in the Snowmobile Speed and Style -- a combination of snocross and freestyle, he landed a Kiss-of-Death flip and a Cordova flip. To control his sled and launch solid extensions during flips, LaVallee maintained a death-grip on the sled's handlebars.
"If your handlebars rotate forward or back, even just a little after you've clamped them as tight as you can, you can be in major trouble," explained LaVallee. "Earlier this year, I asked Henkel if they could help me stop my handlebars from moving. They suggested using retaining compounds and primers to lock the bars in place. I haven't had an issue with movement since. Loctite® is good as gold."
ESPN presented X Games Aspen 2013 January 24 through 27 at Colorado's Buttermilk Mountain for the 11th consecutive year. Celebrating 17 years of the winter version of X Games, this year's competition featured more than 150 athletes competing for medals and prize money in skiing, snowboarding and snowmobiling.
Information on X Games Aspen 2012 can be found via social media at http://www.twitter.com/Loctite_Xtreme, and at http://www.facebook.com/loctite. To see the latest sticky situation that Levi LaVallee and Loctite® Larry have gotten into, visit http://www.youtube.com/loctite. At the Team Loctite® X Games tab on Facebook, visitors can find behind-the-scenes photos, videos, trivia questions and more.
For more information on Henkel's sponsorships, visit http://www.henkelna.com/xgames.
Henkel operates worldwide with leading brands and technologies in three business areas: Laundry & Home Care, Beauty Care and Adhesive Technologies. Founded in 1876, Henkel holds globally leading market positions both in the consumer and industrial businesses with well-known brands such as Persil, Schwarzkopf and Loctite. Henkel employs about 47,000 people and reported sales of $21.7 billion and adjusted operating profit of $2.8 billion in fiscal 2011. Henkel's preferred shares are listed in the German stock index DAX.