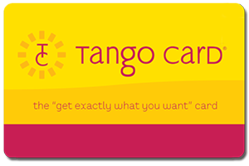 (PRWEB) February 12, 2013
Tellwut is pleased to announce that it has included the Tango Card as part of its reward program offering to its online survey community. "We were looking into the addition of a charity option for our membership as well as expanding our reward program offers. The Tango Card seemed like the perfect solution to meet these requirements" stated Judy Morson, President of Tellwut Corp.
Tango Card's philosophy is the right reward combined with the right delivery will generate strategic and significant results. "This is true across the incentive industry, but particularly important with market research when gathering reliable data and managing program costs are so vital. Tango Card is excited to partner with Tellwut and help them with their business needs," said David Leeds, founder and CEO of Tango Card.
About Tellwut®. Tellwut is a North American online community of individuals dedicated to expressing their opinions through online surveys based upon a wide variety of topics in exchange for rewards and the Tellwut community experience. The Tellwut community and proprietary software application provide a platform for organizations to send surveys to their stakeholders or to conduct online market research through the use of the Tellwut survey platform and the Tellwut Community allowing businesses to gain a clearer understanding and insight into their products or services, customer attitudes and potential business opportunities.
About Tango Card. Moving rewards to the cloud, Tango Card® makes it easy for business customers to send gifts and rewards via RaaS™ (Rewards as a Service). In addition to industry-leading mobile, online, and cloud options for delivering digital rewards and gifts, the Tango Card itself is the "get exactly what you want" gift card because recipients get to choose how, where, and what to use it for. Learn more about the Tango Card.