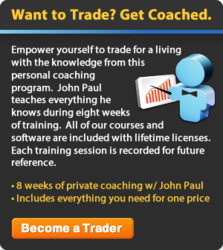 After eight weeks of Mentorship training and practice with paper money, I became consistent with my number of winning trades. I know every morning how to set up my charts, what to look for, and most importantly, I can keep emotion out of every trade.
(PRWEB) February 07, 2013
Day Trade to Win, the world's leading trading educator, is now accepting students for the next Group Mentorship Program. This new session of Mentorship will begin February 20, 2013. Classes will be held on Mondays and Wednesdays from 3:00 p.m. to 4:00 p.m. US/Eastern. Future sessions of Group Mentorship will be offered on an ongoing monthly basis. Individual Mentorship, training on a one-on-one basis is also offered with more flexible class times. Contact Day Trade to Win for the latest class times.
Mentorship is an eight week, all-inclusive live training program designed to teach futures traders of all experience levels how to be consistently profitable every day. Unlike other day trading educators, DayTradeToWin focuses on price action; using price bars to gauge when and how to enter and exit the market. By learning to look for specific candle patterns (or setups), a trader can be positioned to take profit ahead of the big moves. Where other educators may focus on using indicators or relying on other black-box strategies, Day Trade to Win openly explains how each of its methods works. Mentorship makes it easy for anyone to become a successful income trader by sticking to objective rules.
A new Group Mentorship session is about to begin. To enroll and to find out what is included, visit the Mentorship page or call 888-607-0008. Classes are held twice a week in the afternoon. After registering, students receive a copy of the ATO (At the Open) course to study in advance. Each week, a new strategy is taught. In fact, over 11 unique price action methods are learned by students. By the end of the eight weeks, students know how to handle any trading situation that arises.
Mentorship students are given a copy of the NinjaTrader trading platform and a live data feed. John Paul, founder of Day Trade to Win, teaches each lesson and encourages his students to practice with the provided NinjaTrader demo. Regarding practice, John Paul stated "It is important to paper trade at first. With the live data feed and NinjaTrader, it is as close to live trading as you can get. All of our courses and software work with NinjaTrader in demo mode the same way as when trading live."
From the hundreds of trading videos Day Trade to Win has posted on YouTube and the website, many traders are already enrolled in the next Group Mentorship session. Registrant Anthony Hill said he signed up because "No one else has that many traders coming forward stating the strategies actually work. I am confident Day Trade to Win will teach me how to trade the E-mini S&P profitably because of what I've seen in the videos." Indeed, the testimonial videos show many students who became successful after Mentorship training. In addition, John Paul has also published the results of the Atlas Line® software on a weekly basis. The Atlas Line trading software is demonstrated in the majority of Day Trade to Win's videos.
Babak, a mentorship student, created a video about his Mentorship experience: "I worked as a network engineer and teacher for over 20 years. I got laid off twice in the last eight years." He then decided to learn how to day trade. "Trading futures are more cost effective than trading stocks. I spent a lot of money taking classes and seminars. They taught me all the indicators and watching the broader market as a gauging factor on my trades. I never gained the confidence or the timing." "Knowing the price action method of trading actually helped me for the first time in my trading career to pinpoint my exit and exit strategies. I am now on the green side for a change. The funny thing is that John Paul's method is so simple to follow and having live webinar sessions recorded make it so easy to reinforce lessons."
To receive the same training as Babak, email Day Trade to Win at [email protected] or call 888-607-0008.