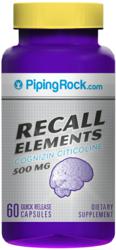 "We want people to be happy and healthy, which includes keeping their brains sharp."
- Scott Rudolph, Piping Rock Founder
New York City, NY (PRWEB) February 06, 2013
Consumers looking for focus and recall help can now find Cognizin® Citicoline in Recall Elements, a dietary supplement by new retailer Piping Rock.
Each Recall Elements capsule contains 500mg of Cognizin, the recommended dose of supporting memory and recall. At 250mg, clinical studies have shown Cognizin may improve focus and attention.
Recall Elements is one of a large stable of products offered by Piping Rock. The company was created by Scott Rudolph, who with his father founded Nature's Bounty in 1986 and turned it into one of the world's largest supplement sellers.
"We're excited that Cognizin Citicoline is a part of the diverse catalogue of quality products Piping Rock offers its customers," said Karen Todd, Director of Marketing for Kyowa, which manufactures Cognizin. "Scientific studies show Cognizin's support on focus, recall, and memory. Piping Rock gives us a channel to provide this impactful ingredient to a broader market."
Piping Rock manufactures all of its products, which Rudolph said allows the company to offer supplements at lower costs. That includes Cognizin Citicoline.
"We want people to be happy and healthy, which includes keeping their brains sharp," Rudolph said. "By shipping Cognizin and our other supplements directly to customers, we are making it more affordable for people to improve their overall health and well being."
For more information about Cognizin Citicoline, visit http://www.cognizin.com.
Ordering information for Recall Elements can be found at http://www.pipingrock.com/memory-cognitive-support/cognizin-citicoline-500-mg-6600.
About Cognizin
Cognizin is a branded form of Citicoline, a natural substance found in every cell of the body and especially vital to brain health.* Citicoline is broken down during intestinal absorption and, after passing through the blood/brain barrier, is reconstituted in the brain as citicoline.* Citicoline is a water-soluble compound that supplies precursors for the synthesis of phospholipids, including phosphatidyl-choline, a major constituent of brain tissue*; helps maintain normal levels of acetylcholine, a chemical that regulates memory and cognitive function*; enhances communication between neurons*; supports visual function*; protects neural structures from free radical damage*; enhances metabolism and healthy brain activity*; and helps sustain healthy cellular mitochondria for sustained energy*. Cognizin is also highly stable, GRAS, ultra-pure and allergen-free. For more information on Cognizin, visit http://www.cognizin.com.
*These statements have not been evaluated by the Food and Drug Administration. This product is not intended to diagnose, treat, cure, or prevent any disease.
About Kyowa Hakko USA
Kyowa Hakko USA is the North American sales office for Kyowa Hakko Bio Co. Ltd., an international health ingredients manufacturer and world leader in the development, manufacturing and marketing of pharmaceuticals, nutraceuticals and food products. Kyowa is the maker of branded ingredients including Cognizin® Citicoline, Lumistor® L-Hydroxyproline, Pantesin® Pantethine, Setria® Glutathione, as well as Sustamine™ L-Alanyl-L-Glutamine. For more information visit http://www.kyowa-usa.com.
About Piping Rock
Piping Rock brings you the highest quality vitamins and supplements at the lowest cost to you. We offer the biggest selection of life-enhancing natural products in the world. Everything you need for a healthy and happy life is right here. And yes, we mean everything. Piping Rock, created by the same people who founded Nature's Bounty, features products you simply won't find anywhere else. We're the ultimate one-stop shop for health-conscious consumers. For more information, visit http://www.pipingrock.com.