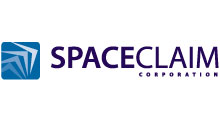 Concord, MA (PRWEB) February 07, 2013
SpaceClaim, the leading provider of flexible and affordable 3D for engineering design and manufacturing, announced today that OEM Partner Flow International, the world's leading developer and manufacturer of ultrahigh-pressure waterjet technology for cutting and cleaning, is in the process of upgrading its entire FlowXpert customer base to SpaceClaim 2012+, the most recent version of SpaceClaim released in October of 2012.
FlowXpert customers use SpaceClaim Engineer to create, simplify, repair, and prepare 3D CAD models for water jet cutting. The OEM agreement was originally signed in the Spring of 2009, and Flow began shipping SpaceClaim Engineer with its water jet cutting systems in the Fall of 2009. Flow selected SpaceClaim at that time because their manufacturing customers needed a simple to use but powerful 3D modeling solution to drive Flow's water jet cutting machine tools.
"Embedding SpaceClaim Engineer with our waterjet solutions has provided a significant competitive advantage for us in the markets we serve," said Chip Burnham, Vice President. "In addition, our customers love how easy it is to use and the functionality offered, and therefore the decision to upgrade our large base of customers to the most recent version of SpaceClaim. We are thrilled with how well our customers have accepted SpaceClaim as an outstanding solution for geometry manipulation, the continuous improvements made to the SpaceClaim, especially when compared to the high license and ongoing maintenance and training costs required by alternative traditional CAD solutions," he added.
"We are pleased to see how well SpaceClaim has been accepted by the Flow customer base in the past three years," said Rich Moore, SpaceClaim VP of Business Development, "and we're especially pleased to see how well SpaceClaim has helped Flow maintain a competitive lead in its markets, enjoying a tremendous 60% global market share. We look forward to continuing to support Flow's efforts and support its growing global customer base."
About Flow International
Flow International Corporation is the world's leading developer and manufacturer of ultrahigh-pressure waterjet technology for cutting and cleaning. Flow provides state-of-the-art ultrahigh-pressure (UHP) technology to numerous industries aerospace, automotive, job and machine shops, paper, food, art and architecture, industrial cleaning, food processing and other specialty applications. For more information, visit http://www.flowwaterjet.com.
About SpaceClaim Corporation
SpaceClaim, the leading provider of 3D Direct Modeling software, develops the best direct modeling solution for engineering and manufacturing. SpaceClaim's acclaimed software is easy to learn and use and is completely CAD-neutral. It enables engineers and other manufacturing professionals to rapidly create new designs or manipulate and edit existing 2D and 3D geometry, without the complexity of traditional CAD. Customers include Toyota Motor Corporation, Nokia Siemens Networks, Bosch, TE Connectivity, BorgWarner, Medtronic, Lotus Cars, Sharp, Ford Motor Company, LG Electronics, Eaton, K2 Medical Systems, Emhart Glass, GE Aviation, Carl Zeiss, General Dynamics, and the U.S. Navy. SpaceClaim is privately held and backed by Borealis Ventures, Kodiak Venture Partners, North Bridge Venture Partners, and Needham Capital. For more information on SpaceClaim, please visit http://www.spaceclaim.com.