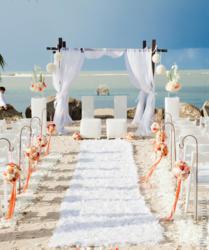 In 2012 ASK ME increased their workforce by 35%, reached out to more than 2,000 travel agents and increased their client roster by 30%.
Miami, Florida (PRWEB) February 07, 2013
ASK ME, a hotel marketing company with a destination wedding division, will be holding a big bash in February 2013 to celebrate their company's fifth anniversary, a major milestone, especially considering that 80% of small businesses fail in their first year (The E-Myth Revisited by Michael Gerber). Hoteliers, media and partners from the Caribbean, Latin America and USA will be attending the party. Hoteliers interested in attending can register here at http://www.askmeinc.com/events/.
In the five years that ASK ME has been in business, they have grown from a three-person group with an idea to a 15-person, multi-branched company that provides hospitality solutions to hotels and destinations. In 2012 alone they increased their workforce by 35%, reached out to more than 2,000 travel agents and increased their client roster by 30%. Since opening their doors, the team at ASK ME has booked more than 600 weddings at client hotels, increased vacation sales at one hotel by at least 28%, and quadrupled onsite wedding revenues at another account in just over 8 months.
Having helped brides from around the world plan their special day, the team at ASK ME shares tips on how to throw a successful party and explains why it is important to celebrate milestones.

Be All-Inclusive. "The first rule of a successful party is to include the ones who helped you reach your milestone," stated Hilary Lanzer, Managing Partner of ASK ME, "For our company party, we are including: our employees - who through their hard work and personal sacrifice, helped us exceed clients goals; our clients- who believed in us when we were just a start up; our connections in the hospitality field who support our efforts; and of course our families, who often sacrifice the most."
Do something. "It doesn't take much to be different. At our anniversary party we are having a signature blue carpet guide guests to the photographer for a glamour shot. Each guest will get a print as their memento of the celebrations. We're also creating a Caribbean atmosphere to suit the location of our expertise – from reggae music to calypso, our guests will get into the groove as they watch cigar rollers at their trade, and sip on Caribbean rum," states Marilyn Cairo, Managing Partner of ASK ME.
Be fun. While the leaders of ASK ME want to be sure to tell their story and recognize their employees, they want to ensure everyone has a great time and a memorable time. Lanzer states: "A fortune teller will be featured during the evening, directing each client forecast back to our business model of being the solution to all their needs!"
Make Connections. "We are going to tell our story and recognize employees in ways that enable our party guests to get to know us and each other better," said Cairo, "It will be an opportunity for business people to connect in a non-conventional setting which opens communications to strike deals."
Show them your skills and talents. ASK ME specializes in offering hotels sales and marketing services including travel agent outreach, private call center services and destination wedding services. To nonverbally show and celebrate these services, they have created a special landing page at http://www.askmeinc.com/events featuring their connections prominently.
Make a Splash. Having the right location makes a big difference. Because ASK ME works with many Caribbean-based hotels, they wanted the location to be open-air and have a casual-elegance. They selected the Villa Woodbine (http://www.villa-woodbine.com/), a historic mansion with lush gardens. "Our guests can easily mingle inside or outside without missing a beat," says Cairo.
"Whether it is getting a new contract or celebrating the anniversary of starting our business, celebrating milestones is important," says Cairo, "It is important to recognize the loyalty and support we get from our customers and employees. Celebrating is an opportunity to share our story and raise awareness about our business and the accomplishments of the team."
About AskMeInc
Ask Me is a Miami based firm focused on providing hotels and resorts in the Caribbean and Mexico with hospitality solutions. The company's turn-key systems offer professional representation, virtual call center services and grassroots marketing to maximize revenue and enhance visibility. Ask Me has a division that specializes in destination weddings and romance travel. For more information visit http://www.AskMeInc.com.