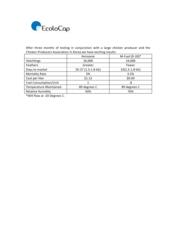 Barrington, IL (PRWEB) February 07, 2013
Michael Siegel, CEO of EcoloCap Solutions Inc. states: "I am pleased to announce that EcoloCap will start producing important revenues on an ongoing basis producing and selling a new blend of M-Fuel in Korea".
Korea is a major producer of chicken for export with approximately 3,000 chicken producers in operation. Historically, kerosene has been used to heat the chicken coops and maintain an 89F degree temperature, which is the ideal temperature for the growing of chickens. However, low humidity and exhaust gases emitted by the kerosene produce some undesirable effects on the maturation chickens. Working closely with the Chicken Producers Association of Korea, ECOS has developed a new fuel emulsion as an alternative to kerosene, in order to eliminate the harmful effects of kerosene and improve production quality. A test was conducted in Anseong, Korea over a three-month period comparing results of the heating of hen houses with Kerosene (the present method) and with M-Fuel. A control batch of 26,000-hatchling was heated with Kerosene. Another facility with 24,000 hatchlings was heated with M-Fuel. The new M-Fuel emulsion is comprised of 50% kerosene, 23% methanol, 24% water and 2% EcoloCap proprietary additive.
After three months of testing in conjunction with a large chicken producer and the Chicken Producers Association of Korea the results are conclusive:
Using the M-Fuel, D-20 the chicken producers save money on fuel, increase humidity, bring birds to market earlier, reduce the mortality rate, reduce cost of processing (less feathers) and produce larger birds. The Chicken Producers Association is disseminating the results of this test to all its 3,000 members. ECOS has already received over $350,000 in monthly orders (5 farms) just from the Anseong area where the tests were held. We are receiving new orders daily as the members of the association are becoming aware of the test results. ECOS is ramping up production to handle the 40 Anseong farms by September (12,000,000 liters/month). ECOS is using local fuel distributors to distribute the D-20. D-20 has a worldwide market as an alternative to kerosene both for the reduction of toxic emissions and lower cost.
About The Company: EcoloCap Solutions Inc. (ECOS) is focused on technology's that utilize advanced nanotechnology to design, develop, manufacture and sell alternative energy products. http://www.ecoloCap.com.
Forward looking statement:
This press release may contain statements of a forward-looking nature regarding future events. These statements are only predictions, and actual events may differ materially. Please refer to documents that EcoloCap Solutions Inc. files from time to time with the Securities and Exchange Commission for a discussion of certain factors that could cause actual results to differ materials from those contained in the forward-looking statements.
Contact:
Investor Relations:
Tel: 866-479-7041
investor(at)EcoloCap(dot)com
EcoloCap Solutions Inc.
1250 South Grove Avenue, Suite 308
Barrington, Illinois 60010
866-479-7041
info(at)EcoloCap(dot)com