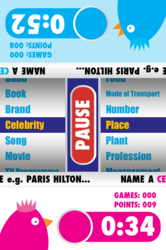 Too many games immerse the player in a virtual world, only big enough for one.
London (PRWEB UK) 8 February 2013
Mobile entertainment has often been the mainstay of single gamers immersing themselves in the latest blockbuster, brain teaser or Angry Birds clone, but one UK company has teamed up with top UK-based app studio Locassa to bring a social spin back to the mobile market.
Real Social Games Ltd, a London-based startup, chose successful app studio Locassa for their first foray into the mobile entertainment space. BokBok, launched late December, is simplicity itself, proving that a great idea can be executed without the usual fuss and complexity visible in many apps. A simple two-person game, BokBok does away with the usual online or local network connectivity and instead opts for a single-phone / dual-user approach. With a split screen and a simple concept the game is truly social and a firm favourite of the Locassa team on their social outings to the local pub.
Simon Lee, CEO of Locassa, explains its appeal. "What we love about BokBok is that it is immediate and social. Too many games immerse the player in a virtual world, only big enough for one. With BokBok, the app becomes a tool for the game, not the whole game world; it's a refreshing change." He goes on to stress the simplicity of such an idea. "For me, the most enjoyable apps on the app store are those which ooze simplicity. Make it simple enough for anyone to use and your target market goes through the roof. BokBok uses gestures and eye-catching design so effectively, it was a pleasure to work on."
Locassa has worked with many top companies, but this latest release shows that the app world is not solely the domain of the big corporate anymore. "It used to be that the only people asking for apps were the big brands we see every day, but in recent months that has changed," Simon explains. "We increasingly work on apps for individuals and startups who have a great idea. Apps aren't cheap but creating a quality product, where the idea is simple, doesn't have to be overly expensive."
Locassa believes that simplicity is key to app design, something they think people get completely wrong most of the time. "People think that apps have to be detailed and do everything include make you breakfast in the morning, but this simply isn't true. The best apps are those which take away all of the unnecessary noise and focus on the core function and give the best user experience."