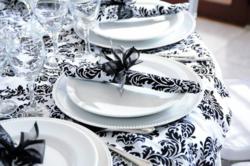 We're just trying to help ease the stress of planning and also help people stay within their budgets.
City of Industry, Calif. (PRWEB) February 12, 2013
With the popularity of Pinterest, Instagram, and other networks that allow users to share inspirational photographs, the demand for these services is at an all time high. These networks are excellent ways to make wedding or party planning easier, by offering inspiration and ideas.
On average, 2.2 million people get married per year in the United States. That roughly averages to around 5,000 per day. Many people hire wedding planners, and spend a lot of money on planning. One business, eFavorMart.com, has recently launched an inspiration sharing network, Social.eFavorMart.com to help cut the costs of hiring a planner and save time, by being a free virtual planning assistant found in one central location. eFavorMart.com is an online retailer of wedding favors, wedding supplies and wedding decorations. The new social website allows users to share anything from videos to recipes, and even color themes that you can use for your wedding décor.
"We're very excited to be able to allow users to share their event decor with other party planners, brides-to-be and average design fans," said Mitch Su, General Manager of YaYa Creations, the parent company of eFavorMart.com. He hopes wedding and party planners gather inspiration and browse practical ideas with ease to help create the perfect wedding.
"It's important for our company to show how much we care about our customers. Providing them with an outlet to show how we helped supply them with the materials to create their dream event is a satisfying feeling to us. It's great to see people inspire others and know that we had a hand in that."
If gathering inspiration for your upcoming wedding is something that will help your planning go smoother, Social.eFavorMart.com is an incredible resource. Unlike other sharing sites, Social.eFavorMart.com is concentrated on one thing only, inspiration! Users have the ability to submit photos and videos of items from eFavorMart and the events they were used at. The site also features a section for users to submit favorite recipes and a write-up of their perfect event.
"People sometimes need a burst of inspiration." said Su. "We're just trying to help ease the stress of planning and also help people stay within their budgets. We know how expensive a wedding can be, which is why we offer our items at low prices."
About eFavorMart.com
eFavorMart.com has been providing brides with the best wedding supplies, wedding decorations and wedding favors since 1994. From cake stands and favor bags, eFavorMart.com's selection is one of the largest on the internet. Based out of the West Coast, eFavorMart.com is committed to excellent service, great pricing and amazing selections of event décor. eFavorMart.com is one of the most popular wedding destinations on the web. To learn more, visit eFavorMart.com.