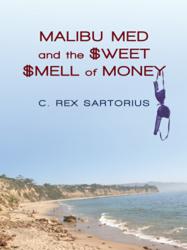 Los Angeles, CA (PRWEB) February 11, 2013
C. Rex Sartorius, physician and author, exposes the cut-throat world of designer drugs in his latest book, Malibu Med and the Sweet Smell of Money.
The novel is a medical thriller that tells the story of opposition, competition and the addictiveness of money.
In shares the journey of Dr. Ahmed Adams, a junior faculty member at a local medical school who is on his way to realizing success, fame and fortune with a new study. Propelled by a crisis, the doctor's career and company hang in the balance.
With the arrival in Malibu of a new gene therapy that combats cancer and aging, the doctor is caught between a dilemma of pharmaceutical riches and medical ethics all pending a controversial FDA approval.
Sartorius hopes the book sheds a telling light on the current issues of the medical community such as pharmaceutical profits, controversial medical testing, corporate competition and individual credibility.
Malibu Med and the Sweet Smell of Money
By: C Rex Sartorius
Softcover: $20.95, ISBN 9781475943733
Hardcover: $30.95, ISBN 978147943740
E-Book: $3.99, ISNB 9781475943757
Available at barnesandnoble.com, amazon.com and westbowpress.com
About the Author
C. Rex Sartorius, a native of England, has studied and worked in the United States since 1975. He studied at Emmanuel College, University of Cambridge and the University of Oxford. He has a background in pathology and is a member of the Royal Society of Medicine, a Diplomat of the American Board of Pathology and has served as President of the U.S. Association of Pathology Chairs. He is also the Editor-in-Chief of the pathology journal Applied Immunohistochemistry and Molecular Morphology. Currently, he lives with his wife in Malibu, California.